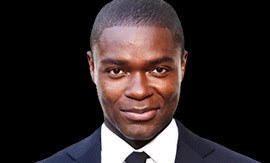 David Oyelowo appears in conversation with Annette Insdorf for a preview screening of A United Kingdom‪ on Wednesday, February 8, 2017 at 7:30 PM.
David Oyelowo has been acclaimed for his performance as Martin Luther King, Jr. in Selma, as well as diverse dramatic roles from ‪Red Tails and The Paperboy to Lee Daniels' The Butler (as the radicalized son of Forest Whitaker) and ‪Queen of Katwe‪. His stage work includes the title role in the recent Othello (with Daniel Craig as Iago) for the NY Theatre Workshop. ‪He has a voice role on Star Wars Rebels as the Imperial Agent Kallus.
A United Kingdom‪ is based on the true story of Seretse Khama, an African prince who fell in love with a white British woman (Rosamund Pike) in the late 1940s. Their marriage sparked international controversy, especially given Britain's economic interests in neighboring South Africa, which was implementing apartheid. Like director Amma Asante's previous film Belle (2014) — about a female aristocrat of mixed English and African ancestry — it explores historical tensions of race and romance.
92nd Street Y
1395 Lexington Avenue, New York, New York 10128
212-415-5500