In 2014, I began my career at Convention Scene with an article about Ichibancon, the Concord, NC anime convention that is now a staple of my family schedule. "Ichiban" means "number 1" in Japanese, a fitting appellation for a convention held over New Year's Eve weekend.
We have attended since 2012, when my daughter was fourteen and stayed up all night in her bedroom watching one anime after another. Now she is nineteen, and she stays up all night in her bedroom watching one anime after another. She does have a job as a Pizza Hut deliverer, which is why she couldn't go to the convention. This year was her first time missing Ichibancon, and I hated that for her.
I wrote in 2014 that the convention had grown. After spending its first three years at the Blake Hotel in Charlotte—which, after pissing off more Democrats than Donald Trump, was split into two hotels in 2013—Ichibancon moved to the larger, family-friendlier Embassy Suites in nearby Concord. It needs to move again. Fridays are usually the slowest days at conventions, but by 5:00pm on that Friday, this is where people were parking.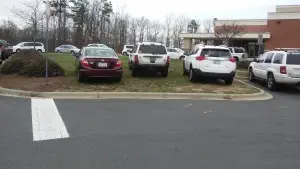 I stuck my head into Vic Mignogna's Q&A on Saturday, and it was less than standing-room only. A con staffer asked me to "choose another place to enjoy the presentation." That sounds feng shui and all, but it was like telling a sardine, "You might be more comfortable at that end of the tin." Managing growth is a problem all conventions face, and it is a good problem. Means you're doing something right.
Ichibancon's sister convention, Triad Anime Con, is moving this year from a hotel to the roomier Greensboro Coliseum. Ichibancon could step up to the Charlotte Convention Center, but that might be cost-prohibitive. Still, more space should be a priority in the next year or two.
Another consideration of managing growth is figuring out ways to smooth the experience for attendees. For that, Ichibancon developed its first mobile device app.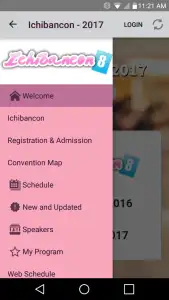 The app was great for updates. Throughout the weekend, I got announcements for session delays and cancellations, price changes, and other things. The app was also a repository for policies and maps, relieving attendees of having to carry a program. Here, for instance, is the autograph policy.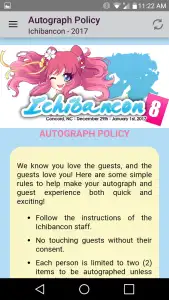 One criticism of the app is that I couldn't find a master list of changes and updates. Once, I saw an update pop up, but it vanished before I could read it all, so I still didn't know what was going on. This left me to dig through the calendar to find the change.
The best part of Ichibancon has always been its guests. We have seen Vic Mignogna there every year, and I still marvel at his star power. For a 5:00pm autograph session, his line started forming at 3:30. By 4:15, it stretched out of the room, around the corner, and down the hall. My colleague, Michaela McPherson, interviewed Vic last year, and I recommend the read.
I got a chance this year to talk to Quinton Flynn, a veteran of video game and anime voice work.
How did you get started doing voice acting?
Well, the long story short is, I got a voiceover agent in Los Angeles, and he started providing me with copy to audition. I started auditioning in a recording booth at their offices, or I would go to outside casting director offices to record me in a booth reading from copy, making it come alive on the page. Eventually, I started booking work for commercials on radio, some on TV, and then I started doing animation, where I voiced the Human Torch and Johnny in The Real Adventures of Johnny Quest. And then I replaced Nathan Lane in the role of Timon in The Adventures of Timon and Pumba.
The longer answer is that I started doing impressions as a little boy. All through school, I did theater. I was also into rock and roll, so I had rock bands, and in college, I studied radio, television, and film. Once I got out of the university, I took some local voiceover workshop classes in Cleveland. Eventually, I knew I had to bounce to one of the major cities. That city became L.A. I took some animation voiceover workshops, and in that process, made a proper demo to go around knocking on doors in Hollywood that eventually yielded me an agent who got me to that place where I started answering your question.
You also do video games. What are the differences in voicing for a video game as opposed to a TV show?
Well, in video games, it is nonlinear recording. You might show up to a session and be jumping around in the script to different time lines, and you have to kind of turn on a dime. It's great if one has an improvisational background, which I do, and if one is easily flexible in terms of taking direction and interpretation and using their mind in the way we always did as children: pure imagination.
That is different from an animated series in that, more often than not, we record alone for a video game. It's just me in the booth. On the other side of the glass is the engineer who is working the knobs and the buttons and the faders. There is a director and sometimes a writer and producer.
In an animated series, if it is an original one, like when I did Johnny Quest or Timon and Pumba, or when I guested on Scooby-Doo or Animaniacs, the whole cast would be in there, and we would start the script from beginning to end, so you'd have the whole story in linear fashion. We would often get the script beforehand, and we'd get to read it and know it, and we'd also have the opportunity to work off one another. So you'd have some fun organic things happening in the moment. Sometimes, we'd be allowed to improvise, and then you'd have some kind of camaraderie.
Interestingly enough, in the video game world, depending on the writers and producers and actors, but largely those in charge of the cutting and editing, they have to be very sharp and clear about the scenes they are recording separately, so that when they bring the characters together, such as Axel and Roxas in the Kingdom Hearts series, they actually sound like they are talking to one another in the same scene, and I can tell you that, listening to the playthrough on YouTube, I was even blown away. It sounded like Jesse McCartney [who voices Roxas] and I were in the same room.
But you weren't? You recorded separately, perhaps not on the same day?
No, never. In fact, I met Jesse at a release party the first time we had done Kingdom Hearts. We had said hello in passing, but we didn't really know who we were to each other in the game. I've never seen him since. And yet, the relationship and the end result is very heartwarming, and I love it.
When I was growing up, video games didn't have voice actors, and I'm always surprised at the number of video game fans who show up at conventions.
Oh, it's true. I've done a huge body of work in animation, and some like it. Then I've done anime, which I have a bigger fan base for. And then, as you said, I've done video games, and the fan base is crazy. The way these things are released nowadays, they're making major motion picture money, topping some of the biggest films that are coming out.
I once heard that the video game industry is bigger than the motion picture industry and the music industry combined.
Yeah, they're making money hand over fist.
When you are preparing to voice a character, how do you get into the role?
Usually, I'm given a breakdown of the character, which tells me where the character is from, the character's age, the tone and register of the character's voice, what his position or role is, or title, what his background is. Based on that information, I then create and develop one character for them that I believe they are asking for, and I give it my Quinton Flynn take or spin. And then I might provide them with an alternate second or third read, just to give them something different, maybe something they hadn't thought of, something that I think does apply to the character. I might sound older or add a different dialect, just to think outside the box. It's kind of like painting or drawing, except I do it with my voice.
How did you get started doing conventions?
About ten years ago, my friend Jeff Nimoy, who was directing me in a show called Digimon Data Squad, was invited to a convention, and I believe another actor bowed out. He and I had done lots of improv together, and we had a fantastic relationship. He asked if I'd like to go, and I said sure, I'd love to go. I didn't know anything about these conventions, and I didn't know if anyone was going to know me. We showed up, and the attention, the adoration, the appreciation, the gratitude, the love, the interest, and the knowledge of the fans was immense. I had no idea. So over the last ten years, I've gotten to go many places in the U.S., Canada, England, and Ireland, and I've met people from all over the world. Recently, when I was in New York City for the New York Comic Con, I met people from Egypt, Scotland, Bangkok, Dubai, and Paris. I've had fans from Belize and Italy contact me on the Internet. It's mind-blowing.
Switching gears a little, I love impressionists, which I know you are. Your YouTube video in which you tell the story of Little Red Riding Hood using 30 different impressions is terrific.
How did you develop your skills as an impressionist?
That is something I started when I was a little kid. My boyhood pal Billy Russ and I used to do impressions of impressionists' impressions. At the time on TV, we were watching Frank Gorshin, Fred Travalena, John Byner, and Rich Little. Those were the four biggies. We started doing impressions of their impressions, and I was obsessed with entertainment, so I watched the Tonight Show with Johnny Carson, and I would do Johnny. I also watched Dinah Shore, Merv Griffin, and Mike Douglas, who would provide us with hours of entertainment, impressionists, actors, and characters that I would kind of sponge off and recreate with my voice. Then in 1975, when Saturday Night Live hit, I watched it until the 90s solidly, and I did impressions of those characters. It's just been a skill I've had and developed since I was a kid, and I have found a method by which I've been able to do it. Some things take work. Other things just kind of fall into place. As I tell people, the characters talk for me; I don't talk for them.
I always wonder whether impressionists ever get feedback from the people they do. Has anyone ever commented on your impressions?
I haven't met any face-to-face, but I once did an impression of Paul McCartney on a morning radio show, and someone close to the McCartney camp called the radio station and said, "How did you get Paul's private number, and why did you wake him up on tour?" Then they had to tell the truth: that this was an impressionist. That did get back to Paul, and he was actually impressed.
There was another convention I was attending, and I had been on a panel doing impressions of Christopher Walken and Christopher Lloyd. I found myself on a break speaking with Christopher Lloyd. His handler had been at the panel, and he said to me, "God, I loved your panel and all your impressions. Which was your favorite?" My Christopher Lloyd/Doc Brown impression went over like gangbusters and was by far the most fun. But there I was, as close to Christopher Lloyd as I am to you, and I was thinking, Do I tell him he was my favorite? If I do, will he be honored? Or will he be upset? What if he asks me to do it? I didn't know him well, and I was afraid he would think I was mocking him. So I didn't tell him. But I promise you this: if I see Christopher Lloyd again, I'm gonna flat out tell him.
Okay, last question. What's the next convention you're going to, and acting-wise, what are you working on now?
I will be in London for their anime convention [London Anime and Gaming Convention, February 3-5]. That is my next convention. I am currently working on an animated series on the Internet called Cartoon Hook-ups, in which I voice the role of Deadpool.
I saw a picture of that series on your table, and I wasn't familiar with it.
Right. Not a lot of people are. It is put together by a gentleman named Jared Winkler, who is a terrific writer, and he has a fantastic artist with him. These are adult-themed, sitcom-type animated episodes where different cartoon characters and sometimes video game or anime characters end up hooking up in hotel rooms. They are cliffhangers in a way because the question is, are they going to hook up? Will they be accepted, or will they be rejected? It's a lot of fun, and I got to do Deadpool, which was a thrill for me.
Who does Deadpool hook up with?
The closest he came to hooking up was with Harley Quinn. It is one of the best, and the actress who plays Harley Quinn [Lauren Taler] is spot-on. I encourage anyone to look that up. You'll get a big laugh.
What else are you working on?
I'm a character named Jhin on League of Legends, which is a platform game you can sign up for online. I'm also creating a show called The Snozzberries, which is about three brothers who have the same mother who was a groupie, so they all have different fathers. They were latchkey kids who ended up living in front of the TV set, and their whole life is seen through a veil or prism of popular culture. They do a musical thing that is akin to Spinal Tap meets Hedwig and the Angry Inch. It will be a combination of animation themes, sitcom themes, movie themes, and original songs along with comedy interspersed. We may start out in the clubs playing it as a show, or we may do it into a little theater venue that tours. We're not sure yet, but we will start out shooting episodes to post online, so look out for The Snozzberries starring Quinton Flynn, Scott Vaughn, and a third brother as yet to be determined.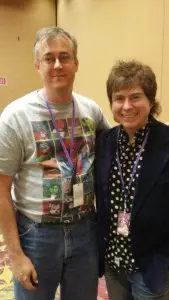 Another area of Ichibancon that has grown is artist alley. In a world that increasingly devalues the fine arts, a convention artist alley is still a place where painters, sculptors, jewelers, and other artisans can make a living. I remember when the Ichibancon artist alley had only three or four members. This year, over a dozen artists were there, offering something for everyone.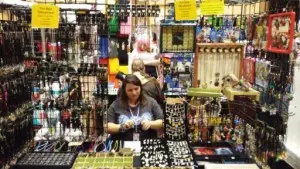 Ichibancon was one of my first conventions, and it remains one of my favorites. The venue is posh (if a little crowded), the staff is among the best I've worked with, and North Carolina in January is not the deep freeze that other parts of the country are. Check out Ichibancon next year. Maybe I'll see you there!