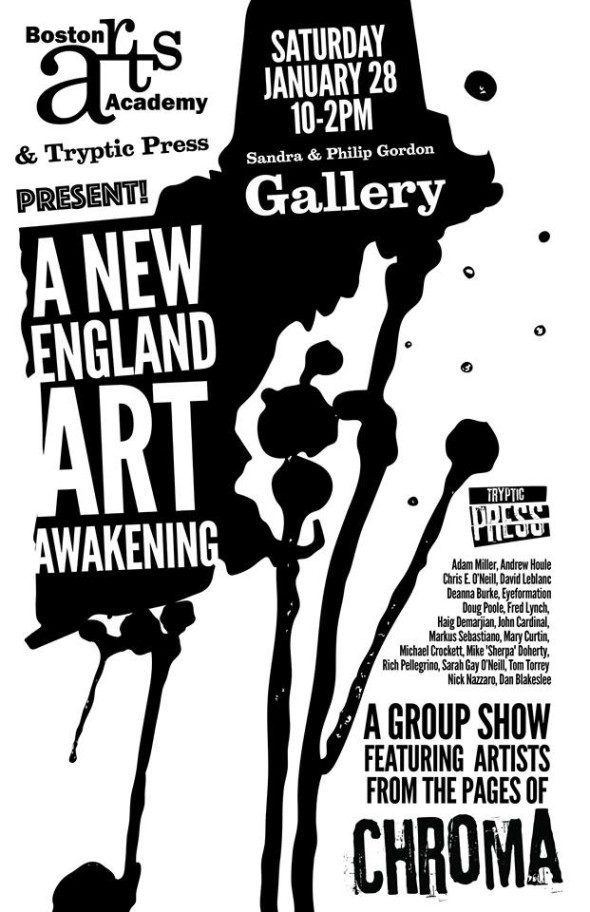 Boston Arts Academy and Tryptic Press present a new Group Show featuring artists from the pages of CHROMA including Adam Miller, Andrew Houle, Chris E. O'Neill,David Leblanc, Deanna Burke, Eyeformation, Doug Poole, Fred Lynch, Haig Demarjian, John Cardinal, Markus Sebastiano, Mary Curtin, Michael Crockett, Mike Doherty, Rich Pellegrino, Sarah Gay O'Neill, Tom Torrey, Nick Nazzaro, Dan Blakeslee & more!
Opening reception at the Sandra and Philip Gordon Gallery on Saturday January 28th from 10am-2pm.
DJ and live music. Artists wil be in attendance with merch and live art in a con-like setting.
Boston Arts Academy
174 Ipswich St, Boston, MA 02215
(617) 635-6470