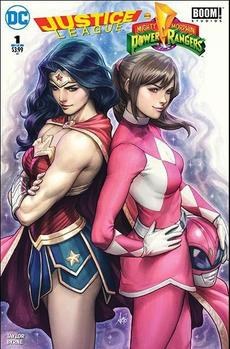 STEPHEN BYRNE will be signing the Forbidden Planet exclusive Artgerm variant of JUSTICE LEAGUE/POWER RANGERS #1 at the Forbidden Planet London Megastore on Saturday 21st January from 1:00 – 2:00 PM.
Two of comics' greatest teams together for the very first time!
Something terrible has happened in Angel Grove! When the Command Center is breached and the teleporters are damaged, Zack is flung into another universe, where he's mistaken for a villain by a mysterious masked vigilante. Can the other Power Rangers get to their friend in time to save him from Batman? Co-published with BOOM! Studios.
Also available at the event will be the brand new JUSTICE LEAGUE OF AMERICA: THE RAY REBIRTH.
Artist Stephen Byrne was born in Dublin, Ireland in 1986. Prior to Justice League/Power Rangers his work in comics included Green Arrow, and Joss Whedon's Serenity. He has also provided covers for Titan Comics' Doctor Who series and contributed artwork to the video game Plants vs Zombies: Heroes.
Forbidden Planet London Megastore
179 Shaftesbury Avenue, London, WC2H 8JR
0207 420 3666