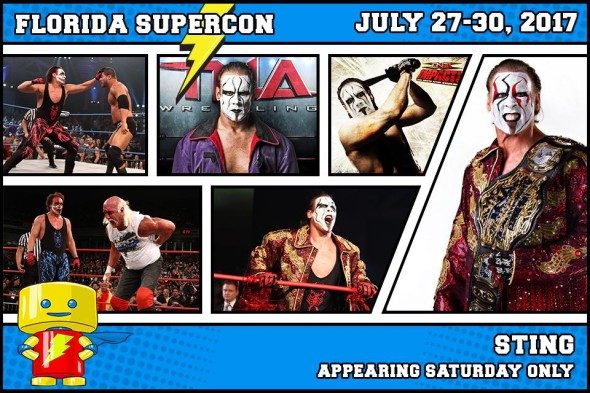 Sting has just been announced as a special guest for FLORIDA SUPERCON July 27-30, 2017 at The Greater Fort Lauderdale Convention Center
Sting will be appearing on Saturday July 29, 2017 from 12:00pm – 3:00pm only! He will be appearing in full makeup and wrestling gear! Go to https://register.growtix.com/e/florida_super_con_2017/6763 for Autograph and Photo Op Tickets. Since Sting is appearing for such a short time, Autograph and Photo Op Tickets are extremely limited!
Sting is a wrestling legend, best known for his career with World Championship Wrestling (WCW), Total Nonstop Action Wrestling (TNA), and most recently with World Wrestling Entertainment (WWE). Sting is regarded as one of the greatest professional wrestlers of all time, having held a total of 25 total championships throughout his career, including 21 between WCW and TNA, which includes 14 major world championship reigns, in a three decade career. Sting was inducted into the TNA Hall of Fame in 2012 and WWE Hall of Fame in 2016.
Sting joins other Wrestling Stars Ric Flair, Amy "Lita" Dumas, Mick Foley, and Jerry "The King" Lawler at Florida Supercon!
Florida Supercon is 4 days of fun featuring celebrity guests, comic book creators, voice actors, industry guests, cosplayers, artists, writers, panels, Q&A's, films & shorts, costume & cosplay contests, vendors, parties, anime, workshops, video gaming and more! TICKETS ARE NOW AVAILABLE @ www.floridasupercon.com. Use promo code SUPER25 to save 25% off General Admission and VIP Tickets for a LIMITED TIME.
Over 150 guests will be announced in the weeks and months leading up to the show! Some of the guests already confirmed include:
TV & Movie Stars: Joel Hodgson (MST3K), Chris Sarandon (The Nightmare Before Christmas, The Princess Bride, Fright Night), Ken Page (The Nightmare Before Christmas, Cats), Brian O'Halloran (Clerks, Chasing Amy), Jason David Frank (Power Rangers), Amy Jo Johnson (Power Rangers), Tony Todd (Candyman, Star Trek, Final Destination), Cindy Morgan (Caddyshack, Tron), and more to come!
Animation and Anime Stars: Michael Bell (G.I. Joe, Plastic Man, The Smurfs, Transformers), Colleen Clinkenbeard (Dragonball Z Kai, Fairy Tail, One Piece, Yuri on Ice), Shanon Farnon (Super Friends, Valley of the Dinosaurs), Josh Grelle (Attack on Titan, Date A Live, Free!, Yuri on Ice), Dana Snyder (Aqua Teen, Justice League Action, Lego Star Wars, Squidbillies), and more to come!

Comic Book Creators: Neal Adams, George Perez, Mike Zeck, David Finch, Jose Delbo, Allen Bellman, John Beatty, and more to come!
Wrestling Stars: Ric Flair, Sting, Amy "Lita" Dumas, Mick Foley, Jerry "The King" Lawler, and more to come!
Plus dozens of Cosplay Guests, Entertainment Guests, and Fan Groups!
Check out our Facebook event page at https://www.facebook.com/events/1297731703585276 and RSVP to let us know you're coming!