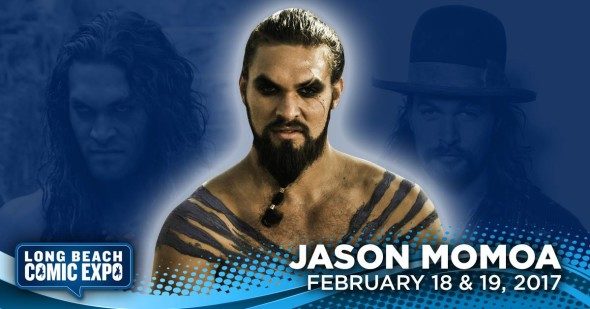 Actor Jason Momoa (Game of Thrones, The Red Road) will be joining us at Long Beach Comic Expo on Saturday February 18, 2017 only! SAVE THE DATE! Barbarian, Dothraki and soon to be Fish Whisperer in DC's JUSTICE LEAGUE movie and an AQUAMAN stand-alone spinoff, Jason Momoa is also headed to Netflix to star in the action/adventure series FRONTIER.
Other guests include Tim Bradstreet, Jim Cheung, Agnes Garbowska, Keron Grant, Mike Kunkel, Todd Nauck, Amy Reeder, Frank Tieri, and Mark Waid.
Long Beach Comic Expo is an annual event held at the Long Beach Convention Center each spring. It's a celebration of comic books and pop culture that showcases the exceptional works of talented writers, artists, illustrators and creators of all types of pop culture. At Long Beach Comic Expo, you'll find exhibitors promoting and selling all types of related products, as well as entertaining and educational programs, guest signings, and meet & greet sessions with celebrities. For more specific information about the show, please use the FAQ button on the website (www.longbeachcomicexpo.com). Long Beach Comic Expo is a production of MAD Event Management, LLC.