Harley Quinn co-writers Jimmy Palmiotti and Amanda Conner (who is also the cover artist) are the first guests announced for Planet Comicon on April 28-30, 2017! Tickets are available for sale now at the link…
JIMMY PALMIOTTI:
Jimmy Palmiotti has a wide range of experience and background in advertising, production, editorial, film writing and production, media presentation and video game development. His clients include Nike, Disney, Warner Brothers, Lionsgate, Fox, and New Line, 2KGames and THQ games.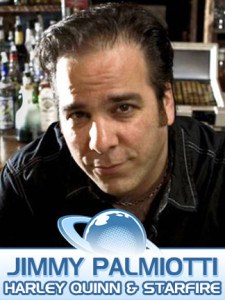 Jimmy Palmiotti is co-founder of such companies as Event Comics, Black Bull Media, Marvel Knights and the current Paperfilms, where he is partners with Amanda Conner, Justin Gray, Frank Tieri and Paul Mounts.
Has created and co-created numerous series and characters including: The New West, The Monolith, 21 Down, The Resistance, The Pro, Gatecrasher, Beautiful Killer, Ash, Cloudburst, Trigger Girl 6, Thrill Seeker, Queen Crab, Weapon of God, Sex and Violence, Denver, Creator Owned Heroes and Painkiller Jane, which was turned into a SyFy original TV series starring Kristanna Loken and recently optioned for the movie screen.
With PaperFilms co-founder Amanda Conner, they are currently working on the highly received Harley Quinn and Starfire series for DC Comics. Garnering national attention and sales results, the team continues to receive accolades for their work on these titles.
He has co-written, with Justin Gray, the DC comic book series Jonah Hex, All-Star Western, GI Combat, Star Spangled War Stories, Power Girl and the digital release Ame-Comi Girls, available digitally at Comixology.com. The pair have worked on the video game Injustice: Gods Among Us for NeatherRealm Studios and DCU vs. Mortal Kombat. At Marvel, Jimmy teamed with Joe Quesada to create the Marvel Knights imprint and usher in a radical change at Marvel Comics still felt to this day. He and Justin Gray were tapped to adapt the award winning novel Wool for an Amazon exclusive digital graphic novel series.
Currently in film development are a number of projects created by Jimmy, which include Just A Pilgrim, The New West, Random Acts of Violence, Monolith and Tempest; as well as well as Painkiller Jane being adapted for film.
AMANDA CONNER: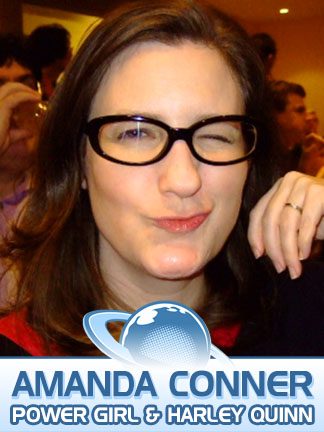 Amanda Conner started out in comics working on small projects for Marvel and Archie. She had been working as an illustrator for New York ad agencies Kornhauser and Calene and Kidvertisers. She worked on a number of launches and campaigns such as Arm & Hammer, PlaySchool and Nickelodeon, to name a few.
However, loving comic books and cartooning the most, Amanda found herself working for Marvel on their Barbie line (many of Amanda's covers were made into designs for the line of Barbie toys), Disney line which included the Gargoyles books. At the same time she was illustrating Soul Searchers & Co. for Claypool Comics and worked on other Marvel projects, such as Excalibur for the X-Men line and Suburban Jersey Ninja She-Devils.
During an assignment for Crusade (Tomoe) she and Jimmy Palmiotti became a real team as penciller/inker.
Amanda then moved on to do what is probably one of her best known works. She did several years as penciller on the hit series Vampirella for Harris Comics drafting 24 issues. While illustrating Vampirella, Amanda worked with the top writers in the field including Grant Morrison, Mark Millar and Warren Ellis.
Continuing to expand her horizons, Amanda illustrated the best-selling crossover Painkiller Jane vs. the Darkness, and went on to work on Painkiller Jane #0 (the origin book). She also wrote and illustrated a story for Kid Death and Fluffy.
Since then, Amanda has moved on and has worked on many of the top titles in comics such as Lois Lane, Codename: Knockout, and Birds of Prey for D.C. Comics Vertigo line, X-Men Unlimited for Marvel, co-created Gatecrasher for Blackbull Comics, and The Pro, an Eisner nominated creator owned book for Image Comics with Jimmy Palmiotti and Garth Ennis.
Amanda, together with artist/inker/writer Jimmy Palmiotti and writer Justin Gray work together via Paperfilms; a multimedia entertainment studio, engaged in screenwriting, art production and multimedia development.
She continuously produces cover work for Marvel Comics, DC Comics and an assortment of independent titles.
Amanda's work can also be seen outside the comic book community in such places as ABC'S Nightline, the New York Times, Mad Magazine, the syfy series Stan Lee's So You Want to be a Superhero. For the upcoming Disney Underdog movie doing character designs for film and television. Amanda did character designs for the Los Angeles Avengers stadium football team and is featured in a Biography magazine commercial on A&E. Amanda does spot illustrations in Revolver magazine each month and has had a huge success with the JSA Power Girl miniseries in previous years. Each issue went into 3rd printings.
For more information about the 2017 show, event photos, interviews and more, "Like" Planet Comicon on Facebook and follow @PlanetComicon on Twitter. Planet Comicon Kansas City is always available online at www.planetcomicon.com.