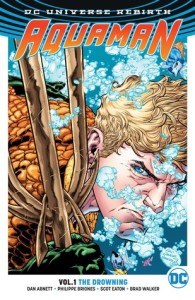 Dan Abnett will be signing copies of Aquaman Vol. 1: The Drowning at Forbidden Planet's London Megastore on 11th January at 6:00pm.
Aquaman, the King of Atlantis, has never found a true home in either of the worlds that he was born of. In these tales from AQUAMAN: REBIRTH #1 and issues #1-7 of the new series, the King of Atlantis attempts to broker a peace between Atlantis and the surface, but this noble quest might force Aquaman to choose whether to live his life above the waves, or below them.
Dan Abnett is a bestselling author and an award-winning comic book writer. He has written over fifty novels, and his 2008 run on Guardians of the Galaxy for Marvel formed the inspiration for the blockbuster movie. He is a regular contributor to 2000AD and is the writer on Aquaman, The Titans and Earth-2 for DC Comics.
Forbidden Planet London Megastore
179 Shaftesbury Avenue, London, WC2H 8JR
0207 420 3666