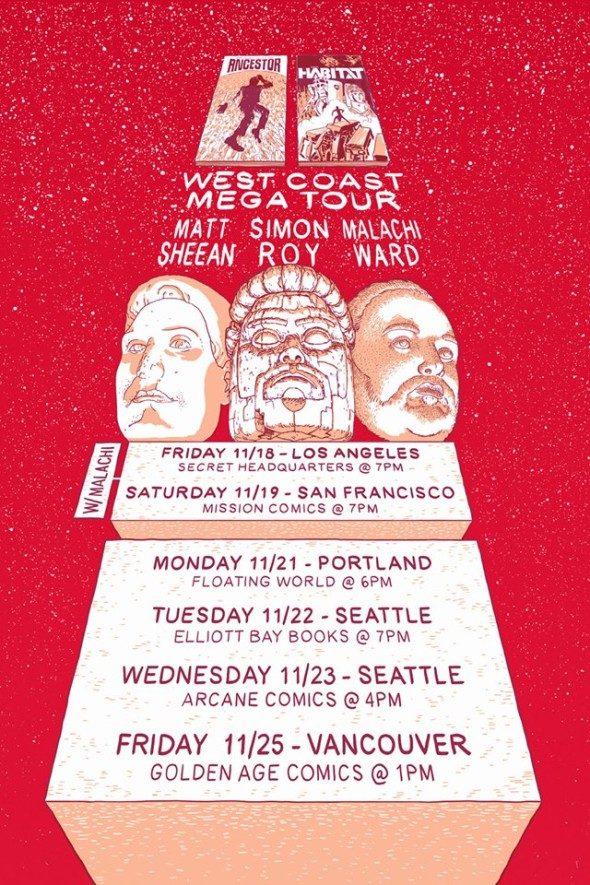 Matt Sheean and Simon Roy appear at Floating World Comics on Monday November 21st from 6:00 – 8:00 PM to celebrate the release of their two newest books – Ancestor and Habitat. Both of these sci-fi adventures were originally serialized in Island Magazine, from Image Comics.
Ancestor
In rare lucid moments you see that you are enslaved. You tell yourself that The Service is a helpful interface providing your mind with continual aid and stimulation, but you know it's a lie. Patrick Whiteside can help you. He doesn't require much: An open mind. Determination. The ability to make sacrifices. Let Whiteside help you. By Matt Sheean and Malachi Ward.
Habitat
All his life, Hank Cho wanted to join the ranks of the Habsec-the rulers of the orbital habitat his people call home. But when he finds a powerful, forbidden weapon from the deep past, a single moment of violence sets his life-and the brutal society of the habitat-into upheaval. Hunted by the cannibalistic Habsec and sheltered by former enemies, Cho finds himself caught within a civil war that threatens to destroy his world. By Simon Roy.
Floating World Comics
400 NW Couch Street, Portland, OR 97209
(503) 241-0227