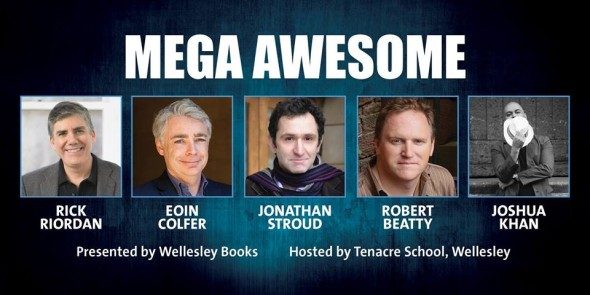 Press Release:
Rick Riordan, Eoin Colfer, Jonathan Stroud, Robert Beatty, and Joshua Khan appear on Sunday, November 6th from 2:00 – 5:00 PM. Tickets for this event include a copy of one of the authors' new books (i.e. you do not need to purchase the book in addition to the ticket, unless you want more than one book). Make sure you select the ticket for the book you want! Also note that this Wellesley Books event will take place at Tenacre School in Wellesley.
ABOUT THE AUTHORS
Rick Riordan is the #1 New York Times bestselling author of over twenty novels for young readers, including the Percy Jackson series, the Kane Chronicles, the Magnus Chase series, and the Trials of Apollo. His latest book is the second installment of the Magnus Chase series.
Eoin Colfer is the internationally best-selling author of the Artemis Fowl series, which is in development as a film with the Walt Disney Studio, with Kenneth Branagh attached as director. His other novels include the WARP trilogy, Airman, Half Moon Investigations, The Supernaturalist, Eoin Colfer's Legend of… books, The Wish List, Benny and Omar; and Benny and Babe. His new book is Iron Man: The Gauntlet, a Marvel YA novel.
Jonathan Stroud is the author of the Lockwood & Co. series as well as the New York Times best-selling Bartimaeus books, and the stand-alone titles Heroes of the Valley, The Leap, The Last Siege, and Buried Fire. His latest is Creeping Shadow, the fourth installment of the Lockwood & Co series.
Robert Beatty's novel Serafina and the Black Cloak became a New York Times Bestseller the first week it was launched. He writes full-time now, but in his past lives, he was one of the early pioneers of cloud computing, the founder/CEO of Plex Systems, the co-founder of Beatty Robotics, and the chairman/CTO of Narrative Magazine. His new book is Serafina and the Twisted Staff, the latest in the Serafina series.
Joshua Khan was raised on the stories of heroes, kings and queens until there was hardly any room for anything else. With Shadow Magic, Joshua has created a world of ancient sorcery, magnificent forests, dark secrets and really, really big vampire bats.
Tenacre Country Day School
78 Benvenue St, Wellesley, MA 02482
(781) 235-2282