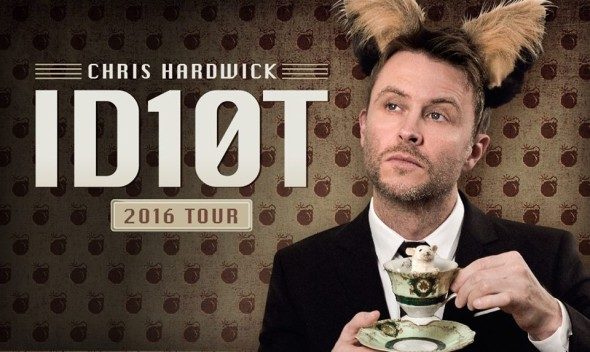 Comedian Chris Hardwick (Nerdist, @midnight, Talking Dead) performs at the Wilbur Theatre on Friday, November 4, 2016 at 7:30 PM and 10:00 PM! Tickets available at the link…
Chris Hardwick is a stand-up comedian, chart-topping podcaster, television personality, contributor for Wired magazine, and creative head of the multi-platform media behemoth known as Nerdist Industries. Chris is the CEO of Nerdist Industries, which has grown to include the Nerdist.com website; a premium YouTube channel (youtube.com/nerdist) with over 1M subscribers; 2.4M Twitter fans; and a podcast network including the flagship Nerdist Podcast that averages over 6 million monthly downloads.
Nerdist also produces content for television including "All Star Celebrity Bowling" for AMC and "In the Name of Science" for National Geographic Channel. Further, Nerdist hosts live events around the country such as The Nerdist Podcast Live! and Course of the Force, an annual lightsaber relay in partnership with Lucasfilm LTD and Octagon which leads up to San Diego Comic-Con International.
On top of his Nerdist responsibilities, Chris is the face of AMC's live after show Talking Dead, which discussed the highly-rated The Walking Dead. His top rated late-night show, @Midnight airs four nights a week on Comedy Central. Nerdist Industries is headquartered at Meltdown Comics in Hollywood.
Wilbur Theatre
246 Tremont Street, Boston, MA 02116
(617) 248-9700