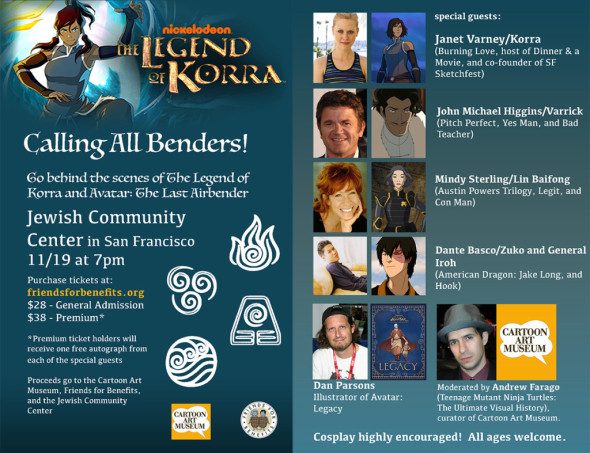 Janet Varney, John Michael Higgins, Mindy Sterling, Dante Basco, and Dan Parsons appear on a panel moderated by Andrew Farago at the Jewish Community Center of San Francisco on Saturday, November 19th at 7:00 PM! Tickets available at the link… *Premium tickets include a private post-event signing with the panelists.
Press Release:
Calling all benders! Go behind the scenes of The Legend of Korra and Avatar: The Last Airbender with special guests voice actors Janet Varney, John Michael Higgins, Mindy Sterling, Dante Basco and Avatar: Legacy illustrator Dan Parsons. Cosplay highly encouraged! All ages welcome.
Janet Varney (voice of Korra) is a comedian, actor, writer and producer known for her roles as Becca on FX's You're the Worst and as the host of TBS's Dinner and a Movie. She is also known in San Francisco as the founder of the annual comedy festival San Francisco Sketchfest.
John Michael Higgins (voice of Varrick) is an actor and voice actor whose credits include Christopher Guest's mockumentaries, Pitch Perfect, Yes Man, Bad Teacher, and many other films and television shows.
Mindy Sterling (voice of Lin Beifong) is known for her role as Frau Farbissina in the Austin Powers films as well as roles in Con Man, Legit, Chowder, iCarly and Disney Channel's A.N.T. Farm.
Dante Basco (voice of Zuko and General Iroh) is known for his role as Rufio in the 1991 film Hook. He was also the voice of Jake Long in the Disney series American Dragon: Jake Long.
Dan Parsons (illustrator of Avatar: Legacy) is an illustrator and comic book artist who is best known for his work on Star Wars comics and Game of Thrones.
Andrew Farago (moderator) is the curator of the Cartoon Art Museum and the author of many books on cartooning including Teenage Mutant Ninja Turtles: The Ultimate Visual History.
Presented by Friends for Benefits and the Cartoon Art Museum
Jewish Community Center of San Francisco
3200 California St, San Francisco, CA 94118
(415) 292-1233