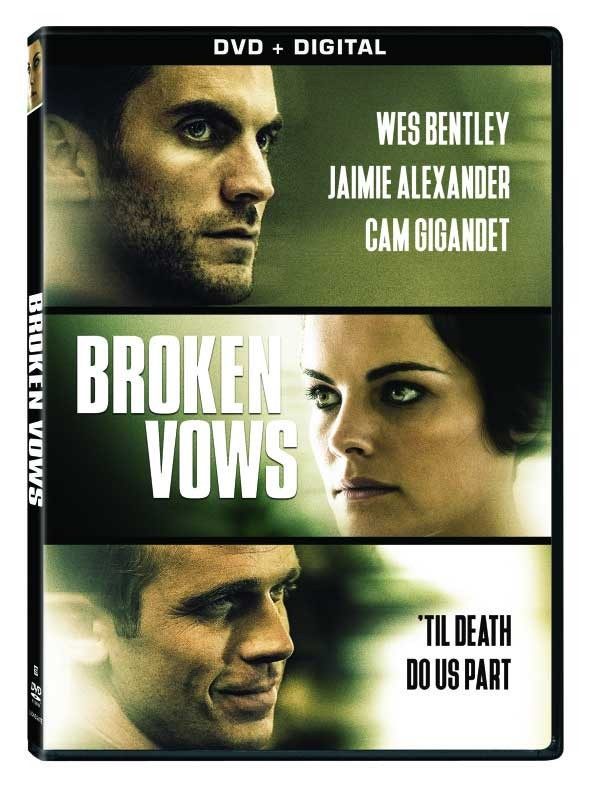 Broken Vows, a New Film by Lionsgate Available Oct 11, 2016.
Experience the intensity of the psychological thriller Broken Vows when it arrives on DVD (plus Digital), Digital HD and On Demand October 11 from Lionsgate.
Over the years, the story of a cheating husband being stalked by a crazed ex-mistress has become something of a cliche. With Lionsgate's latest direct-to-audience film, Broken Vows, the writers do a decent job of flipping the script. In the movie, Jaimie Alexander stars as a woman who must find the strength to escape the grasp of a psychotic stalker before he destroys everything and everyone she loves. Here is a detailed description:
"In this chilling, sexy thriller, Tara (Jaimie Alexander, TV's "Blindspot") finds her life unraveling after hooking up with bartender Patrick (Wes Bentley, The Hunger Games) during her bachelorette party in New Orleans. Patrick becomes obsessed with Tara, not knowing she's about to marry Michael (Cam Gigandet, The Twilight Saga franchise), and tracks her down to her quiet California home. As Patrick's obsession turns violent, Tara stands to not only lose her marriage and her loved ones, but also her life."
Though the plot is a tad formulaic, the cast does an honorable job of working with what they've been given. The been-there-done-that feel of the story is quickly forgotten given the gender role reversal of sorts. Having a strong female lead is a nice change of pace. Jaimie Alexander may not have the longest resume in the business, but she is definitely one to keep an eye on. I was already a fan of her work on the series Blindspot, and this film is a nice vehicle for her to put aside her action-hero notoriety and stretch her emotional chops. Alexandra Breckenridge, coming off of a memorable stint on the series The Walking Dead, does a fine job as well. This isn't exactly Fatal Attraction, but Broken Vows is a thriller worthy of your time.
And, what made that time more enjoyable for me was Wes Bentley. I've always been a sucker for stalker movies; what can I say? They creep me out. But, couple that with Bentley's smoldering gaze (it's like he's looking through you) and that's enough to keep me glued to the television. Whether your familiarity with his work comes from American Horror Story or all the way back to American Beauty, there's no mistaking his understated ability to crawl under your skin. His intensity, even in lighter roles, is frightening, and for some reason I find that attractive. I get that I should probably have felt sorry for the poor, betrayed husband-to-be, played by Cam Gigandet, but I didn't. His character, Michael, had a smugness about him. I can't put my finger on what it was, but I can see how it would be easy to lose yourself in Bentley's bartender. (There's something wrong with me).
While this psychological thriller is somewhat predictable, it was well shot and still held enough twists and turns (stick with it til the end) to make it worth the hour and a half you'll spend yelling at your TV. If the typical array of October/Halloween horror movies are not your cup of tea, I would recommend an evening of Broken Vows. The Broken Vows DVD will be available for the suggested retail price of $19.98.
Alexandra Breckenridge:
Mini Trailer:
Wedding Social:
Wes/Jaimie Social:
CAST
Wes Bentley                              TV's "American Horror Story: Hotel," The Hunger Games
Jaimie Alexander                       TV's "Blindspot," Thor
Cam Gigandet                           Easy A, The Twilight Saga Franchise
Astrid Bryan                              TV's "The Bold and the Beautiful"
Alexandra Breckenridge             TV's "The Walking Dead"
and Alex Ladove                       Life of Crime
PROGRAM INFORMATION
Year of Production:  2016
Title Copyright: © 2015 Bullet Entertainment, LLC.  All Rights Reserved.
Type: Home Entertainment Premiere
Rating: Rated R for Disturbing Violent Content, Language and Some Sexuality
Genre: Thriller
DVD Closed Captioned: English
DVD Subtitles: English and Spanish
Feature Run Time: 91 minutes
DVD Format: 16×9 Widescreen (2.40:1)
DVD Audio: English 5.1 Dolby Digital Audio