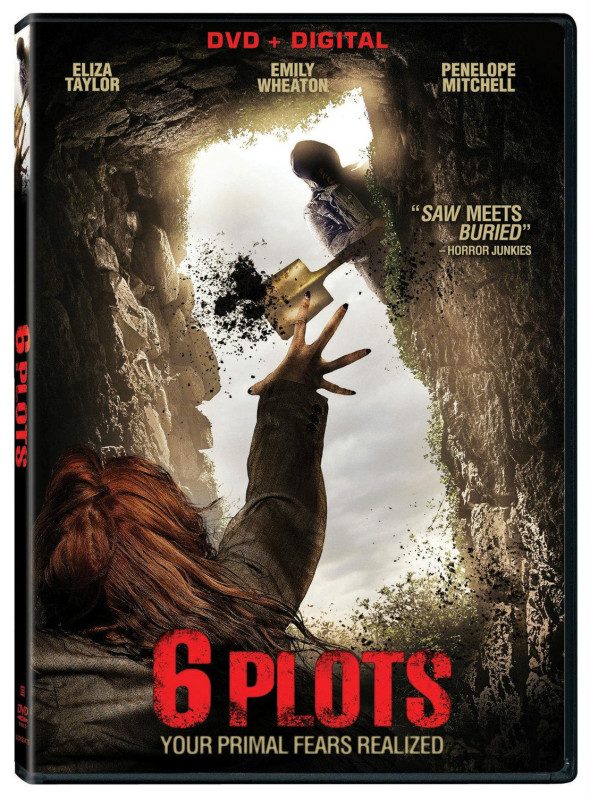 I want to play a game. The game is to count how many classic horror films were mimicked in the making of the Australian thriller 6 Plots. Right on the DVD cover you see references to Saw and Buried. Another review mentioned Hostel. You could make arguments for Cube, Vile, and The Hills Have Eyes. But the greatest debt owed by this movie is to an older film, one that helped originate the slasher genre despite itself being a suspense thriller (and a nonpareil one at that): Halloween.
SPOILERS:
Seven students at Oak Bay High School plan a Friday night bash. There will be music. Booze. Sex. Hijinks. The party will take place in a "borrowed" (read: they broke in) house on the beach. We see the kids doing what kids do at parties, every jiffy of which they intend to livestream on the Internet because–well, you've seen American Pie. Anyway, everybody passes out, and when one of the kids, Brie, wakes up, she notices the others have skedaddled.
As Brie gathers her stuff to head home, she gets a phone message from this guy.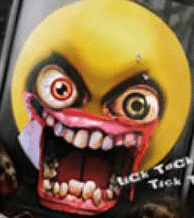 The message tells her to play a game, no parents, no authorities. The game: find her friends. All are locked in boxes and stashed around town. All can communicate with her via their phones. She is also sent video updates of their predicaments via the cameras installed in each box. Inevitably, parents get involved, as do the cops, so a few kids have to die. One is burned (she kept saying she was "covered in petrol"). Another is buried alive. A saw mill blade provides the most gruesome killing. Brie and the cops manage to save the other three, and a few weeks later, they are all back at school, cracking wise and calling one other "bitches." Then they run into a creepy guy we saw for five seconds at the beginning of the film who makes some cryptic remarks in a basso profundo voice and walks away with the above emoticon on his skateboard. I guess he was the bad guy.
Did you catch all the Halloween analogs?
Teenagers plan a gathering.
They lie to their parents about it (in one geek-gasmic scene, a guy's father calls home to check on him, and his buddy sitting in a different house answers the home phone using his cell phone and an "automated Skype message faker").
They use someone else's house without permission.
The girl with no boyfriend (Brie) becomes the savior.
One victim's father is the police chief.
The whole thing is broadcast online (as in Halloween: Resurrection).
Now let me tell you what is not like Halloween: there isn't one bit of menace in this movie. When there is a movie involving a villain, that villain is the film's strength. Michael Myers's mix of childlike wonder and unholy force is established from the first moment of Halloween, and it twists through all the films in the series. You can't take your eyes off him. Ditto for John Kramer (aka, Jigsaw), Fred Krueger, Dracula, and all the great horror villains. Their personalities–Kramer's cold logic, Krueger's impishness, Dracula's smug ferocity–make them compelling, while their motives make them scary.
What of the villain in 6 Plots? Other reviews call him The Emoticon, but I don't recall anyone saying that in the film, and for good reason: it sounds like a lame Charlton Comics superhero. So he's nameless, and until the final scene, he's invisible. This is another mistake by the filmmakers. It isn't necessary for the protagonists to meet the villain until the end–the Die Hard movies have mastered this approach–but it is necessary for the audience. How can we be afraid of someone we can't connect with? As for motive, think of John Kramer's aim: "to test the fabric of human existence." It's an unusual goal, lofty and sinister. The guy behind The Emoticon? His motive seems dull as driftwood.
The opening credits of 6 Plots include the line "Based on a concept by Leigh Sheehan and Tim C. Patterson." Because these are the film's director and writer, I wondered why they were credited this way, since "concept" seems an integral part of writing and directing. The unfortunate answer is that concept is most of this movie's appeal. The non-villain characters are relatable, and the actors are good–so good I wanted to see interviews with them in the making-of documentary that forms the DVD's sole special feature (I was disappointed). It is an interesting concept, though maybe too ambitious. With six victims to keep up with, I found myself getting confused.
Maybe 6 Plots should have stuck to one plot this time around.
PROGRAM INFORMATION
Year of Production: 2012
Type: Home Entertainment Premiere
Rating: R for Language, Some Violence/Terror and Teen Partying/Drug Material
Genre: Horror
Closed Captioned: English
Subtitles: English and Spanish
Feature Run Time: 87 minutes
DVD Format: 16×9 Widescreen (2:35:1)
DVD Audio: English 5.1 Dolby Digital Audio
ABOUT LIONSGATE
Lionsgate is a premier next generation global content leader with a strong and diversified presence in motion picture production and distribution, television programming and syndication, home entertainment, digital distribution, new channel platforms, video game sand international distribution and sales. The company has nearly 80 television shows on 40 different networks spanning its primetime production, distribution and syndication businesses. These include the critically-acclaimed hit series Orange in the New Black, the multiple Emmy Award-winning drama Mad Men, the hit broadcast network series Nashville, the syndication successes The Wendy Williams Show and Celebrity Name Game (with FremantleMedia), the breakout series The Royals and the Golden Globe-nominated dramedy Casual.
Its feature film business has been fueled by such successes as the blockbuster Hunger Games franchise, the first two installments of the Divergent franchise, Sicario, The Age of Adaline, CBS/Lionsgate's The DUFF, John Wick, Now You See Me, Roadside Attractions' Love & Mercy and Mr. Holmes, Lionsgate/Codeblack Films' Addicted and Pantelion Films' Instructions Not Included, the highest-grossing Spanish-language film ever released in the U.S.
Lionsgate's home entertainment business is an industry leader in box office-to-DVD and box office-to-VOD revenue conversion rates. Lionsgate handles a prestigious and prolific library of approximately 16,000 motion picture and television titles that is an important source of recurring revenue and serves as the foundation for the growth of the company's core businesses. The Lionsgate and Summit brands remain synonymous with original, daring, quality entertainment in markets around the world. See www.lionsgate.com.