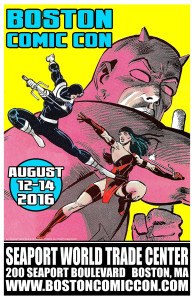 Press Release:
Boston Comic Con kicks off the three-day comic book convention on Friday, August 12 to Sunday August 14!
Boston Comic Con Celebrity Guest list includes William Shatner, the original Captain James T. Kirk, whose appearance, along with Vic Mignogna, marks the celebration of Star Trek's 50th anniversary. Also appearing are leading stars from top current TV shows including John Barrowman, Caity Lotz, Ciara Renee, Danielle Panabaker and Robbie Amell from CW's Arrow, Legends of Tomorrow and The Flash, Ben Mckenzie from Gotham, Elizabeth Henstridge from Agents of S.H.I.E.L.D., Gillian Anderson from the X-Files and featuring special appearances from Doctor Who companions Jenna Coleman and Karen Gillan.
Frank Miller, the most celebrated creators in comic book history, headlines a stellar line-up of over 90 world class comic book artists and writers, including notable appearances by Sam Kieth and John Cassaday. Kieth is best known for his creator-owned titles The Maxx and Zero Girl and as co-creator of The Sandman. Cassady is a fan favorite artist with acclaimed runs on Planetary, Captain America, Astonishing X-Men and Marvel's new Star Wars series. They join other famed artists such as Arthur Adams, Mike and Laura Allred, Greg Capullo, Amanda Conner, Terry Dodson, Phil Jimenez, Erik Larsen, Jae Lee, David Lloyd, Jimmy Palmiotti, Scott Snyder, Mark Waid, Marv Wolfman, Bernie Wrightson and many more.
On Friday, August 12, it's Family Day where kids age 10 and under will receive free admission to the show featuring a variety of family friendly activities.
On Saturday, August 13, Mayor Marty Walsh will greet William Shatner and deliver a proclamation to the Star Trek legend. This will take place at 9:45 AM in the Harborview Ballroom at the Seaport World Trade Center. Also participating are Nick Kanieff and Jim Talbot, co-founders of Boston Comic Con.
On Sunday, August 14, the convention continues and includes one of the most anticipated events of the weekend, the annual Costume Contest on Sunday, August 14 from 4:00 PM to 6:00 PM in the Plaza Ballroom.
WHERE: Seaport World Trade Center
200 Seaport Boulevard
Boston, MA
WHEN: Friday, August 12: 12:00PM – 8:00PM
Saturday, August 13: 10:00AM – 7:00PM
Sunday, August 14: 10:00AM – 6:00PM
Tickets and information available at the link: www.bostoncomiccon.com