I know many of you are asking: who in the name of J. Jonah Jameson's sideburns is John Stover? In fact, you have met him before. He introduced me to DragonCon in 2011. In 2014, he was my boon companion in Mouse-town for Spooky Empire. In 2015, we took a break from Florida to stay a few miles from the oldest Baptist church in America (founded in 1638) for Rhode Island Comic Con. This year, over the July 4 weekend, we were back in the Sunshine State for another convention new to me: Florida Supercon
John and I have been tight since eleventh grade, when he transferred to my high school midyear, walked into my Spanish class, and took the only available seat—next to me. Twenty-eight years later, we have seen each other through four divorces (two each), five weddings (I lead 3-2), a knot of children (my 2 step, his 3 bio), the near death of his first son, new jobs, new homes, graduate degrees, and a Playboy bunny ex-girlfriend (his, wouldn't you know). Spooky Empire and Rhode Island were new to me, and I'm glad I could experience them with John.
Held in Miami, Supercon is the largest comic book, anime, cosplay, sci-fi, fantasy, video gaming & pop culture convention in South Florida, according to Instagram. Over 51,000 people attended in 2015, and it seemed this year's total would surpass that. Four-day passes had sold out weeks before, and Saturday-only passes were gone by Friday afternoon. Unlike smaller conventions, which tend to be held in hotels, this one was at the Miami Beach Convention Center. I am biased toward hotels for their intimacy (Michaela McPherson discusses this in her Anime Fan Fest article), but except for DragonCon, which is unique, shows of 50,000+ people need the vastness of a convention center.
They need this vastness for, among other things, effective line operation. There were some major celebrities at this convention: William Shatner, Henry Winkler, Ben McKenzie, and some members of the Deadpool cast. Lines were long, but they never felt crowded or unruly. (For line management, it doesn't get much worse than the George R.R. Martin debacle at ConCarolinas 2014.) I don't mind the waiting part of being in line. You learn a lot by talking to other attendees. One couple talked about how accessible the mega-celebrities are at San Diego Comic-Con. The year they went, they were waiting to get into a panel when Ian McKellan showed up and started mingling. Another guy said he waited in Stan Lee's signing line at Mega Con for five hours. Why? Stan was a no-show for the morning session—his M.O., according to the guy.
And sometimes cool things happen in line. Henry Winkler stood in front of his signing table, and he occasionally walked to the end of the line, shaking hands and thanking people for their patience. (Of course, if he didn't take these breaks, there wouldn't be such a need for patience.) Once, he stopped to perform a magic trick for a group of kids. John and I went to Henry's Q&A, which was held in an honest-to-goodness theater next to the convention center. From the moment Henry stepped on stage, he owned it. I had read before that Henry was dyslexic, but I didn't realize how problematic that was for him. He said that, academically, he was in the bottom 3% of the United States. He can't spell and isn't good at math. In high school, he took geometry four times, finally passing with a D.
But he had wanted to act since he was seven years old, and he found a way to do it. How? Tenacity and gratitude: "two words I live by." Both traits power his lifelong advocacy for literacy and education. "If you have trouble in school," he said, "it has nothing to do with how smart you are"—good advice from a man who overcame his obstacles. He has a new show coming out on August 23 called Better Late Than Never. He lauded the cast and writing of Arrested Development, and of course, he talked about being the Fonz, whom he based on Sylvester Stallone's character from Lords of Flatbush. "One of the things I brought to the Fonz," he said, "was loyalty to my friends," which was why Fonz was always watching out for Richie, Ralph, and Potsie. Fonz was the anti-bully, at a time when bullying was becoming an epidemic. And when someone asked him about working with the late Robin Williams on Happy Days, he gushed for five minutes about Williams's brilliance. The next person asked about Ron Howard and got this response: "Ron Howard looks like a loaf of Wonder Bread." He didn't say "Ayyyyyy" after that line, but it was implied.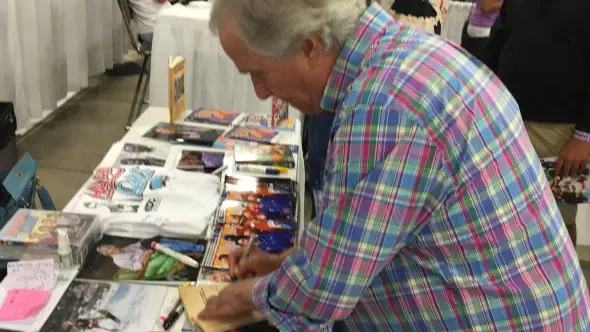 What else can I tell you about Supercon? Actually, I'll let John Stover tell you in his words. John and I have been to a lot of conventions together, and he tends to give thoughtful feedback on things.
Me: Tell me about a couple of the panels you attended.
John: Okay. I attended a tap dance show which was based on video games such as The Legend of Zelda. Link was the lead, and there were about 6-7 other tap dancers.
Me: Were they children performers?
John: No, I'd say late teens or early 20s. It was set to music inspired by video games. I watched about 15 minutes of the hour and decided that was enough. Then I went to watch a short film which was part of the short film festival. It was okay. You know how those are. Some of them are good, some are mediocre.
Me: The one I watched with you, Attack of the Killer Donuts, was worse than mediocre.
John: Cheesiness.
Me: Thirty minutes of my life I won't get back.
John: I stuck my head into one session that had something to do with light saber technology [actual title: The Lightsaber Combat Global Movement and How to Participate]. That was a little over my head.
Me: It turned up the nerd factor. That's like the people who teach themselves to speak Klingon or Elvish. They are immersed.
John: Yes. That is one reason why I liked this convention more than any of the others we've attended. I like the breakout sessions. Those to me give it a more local feel. They are organized by local fans, and I feel like there is more enthusiasm and more energy in the convention when that happens.
Me: As opposed to, say, Wizard World conventions, which are more commercial.
John: Yes. This is not a bunch of experts. It's local fans volunteering their time for the thing they love.
Me: So you would recommend Florida Supercon?
John: Yes!
Me: What does someone need to know before coming here?
John: Don't be a fuddy-duddy. At least buy a nerd-related T-shirt at Target or something. We made that mistake for the first few years. I was looking this weekend at all the people not dressed up or even wearing a T-shirt, and I thought, get some enthusiasm. I would also recommend wearing comfortable shoes. But that's what I liked about the panels. Whenever you get tired of walking, just find one that interests you or that you want to learn about.
Me: I liked the eating choices. Often, in conventions held in a convention center, there is only one restaurant, the convention center snack bar. This one had several food courts with Papa John's Pizza, a Chinese place, a taco place, a French place, gyros, barbecue. There were lots of options for dining—all overpriced but lots of options.
John: The biggest food court could have had more tables, though. Did you see that?
Me: Yeah. It had a huge open floor with nothing on it where they could have put in more tables.
John: I liked how, at the photo op area, there was a schedule of all the photo ops for each day with prices. There was a big screen monitor with a spreadsheet listing them all. Too often, it is hard to know when the photo ops are scheduled and how much they cost. It might be printed in the program, but then you have to dig that out and flip through it. Here, the information was right up on the screen, so I appreciated the organization.
The whole convention was well organized, in fact. I saw few signs rescheduling things, and as far as I know, only three guests cancelled: Jerry Lawler, Karl Urban, and Arthur Darvill. I liked the extended dealer room hours: until 8:00pm on Friday and Saturday. And the cosplays were among the best I've seen. I guess my only disappointment was the schedule on the web site, which was not a single printable sheet. Each day had its own web site page. There was a convention app, but my antediluvian Android is not app-friendly, meaning I had to rely on the web site—not good for a place where 50,000+ were soaking up the Wi-Fi.
I agree with John: Florida Supercon is terrific, well-organized and fun. Despite its size, it is not unwieldy. We've all attended conventions that were too much for their staff, but this is not one of them. Check out the pix below for more fun!