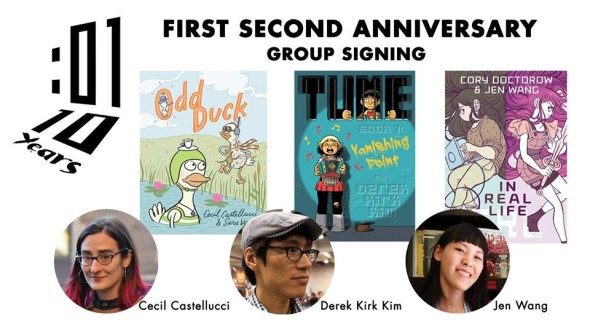 Press Release:
Calling all comic book fans! Gallery Nucleus celebrates FIRST SECOND BOOKS' 10TH ANNIVERSARY! Come join us for a group signing with their talented authors of Tune: Still Life, In Real Life, and newest publication Odd Ducks. Get a one-on-one meet and greet with the artists, as they sign their books and chat with fans. Signing starts from 2:00 pm and ends at 5:00 pm on Saturday, July 16, 2016.
Featured artists:
Derek Kirk Kim
Award-winning author and filmmaker behind "Same Difference," "Mythomania," "Good As Lily"(with Jesse Hamm), and "The Eternal Smile"(with Gene Luen Yang.) He has also contributed stories and artwork to numerous anthologies including "Fables: 1001 Nights of Snowfall," "Flight, Volume 1," and "Bizarro World."

Jen Wang
A cartoonist and illustrator currently living in Los Angeles. Her works have appeared in the Adventure Time comics and LA Magazine. She recently illustrated Tom Angleberger's Fake Mustache. Her graphic novel Koko Be Good was published by First Second. In Real Life is her second book.
Cecil Castellucci
Worked on books that include Boy Proof (Candlewick, 2005), The Plain Janes (Minx/DC Comics, 2007), The Year of the Beasts (Roaring Brook, 2012), and Tin Star (a 2015 Sunburst Award Winner). She collaborated with artist Sara Varon on Odd Duck, a graphic novel for young readers. She is the YA editor of the Los Angeles Review of Books and a two-time Macdowell Fellow. She lives in Los Angeles.
Gallery Nucleus
210 East Main Street, Alhambra, CA 91801
626.458.7477