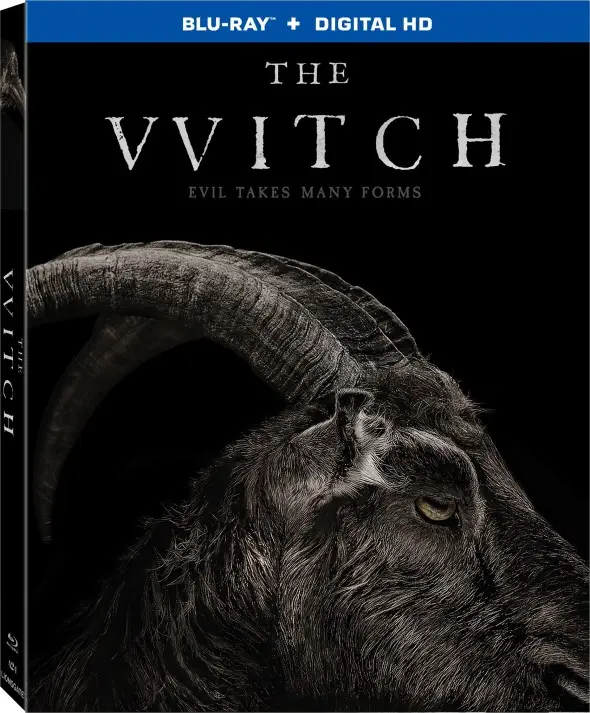 Remember high school, when we had to read several "classics" of literature? The Scarlet Letter, Moby-Dick, A Tale of Two Cities—you know the ones. These books were classics because they broke new ground, doing things that had not been done before.
God, were they boring! They were books only a professor could love. I was reminded of such books when I watched The Witch, Robert Eggers's tale of an unlucky girl suspected of witchcraft. Critics have loved the film, giving it 91%, 83 out of 100, 3½ stars, etc. Stephen King tweeted the movie "scared the hell out of" him. It did well at the box office, grossing nearly $40 million on a $1 million budget, but that may be because audiences were expecting The Blair Witch Project redux. I suspect that DVD and Blu-ray sales will be more modest. Film students may study this movie for years to come—it is visually gorgeous and technically advanced—but I doubt it will maintain a larger following.
The movie starts promisingly. Set in New England in 1630, it is the story of a farming family, William and Katherine and their five children. (Other reviews of The Witch call them Puritans, an assumption that may not be true. They are clearly pious, but piety was not limited to any one religious group. Besides, the Great Migration, as it is called, of Puritans to New England began in earnest in 1630, the year this movie was set.) After a tiff with other settlers, William moves his family to the edge of forbidding-looking woods. Immediately, the youngest child, an infant, disappears. The family's search for the missing boy, and its descent into anger, finger-pointing, and suspicion of demonic involvement, forms the plot for the rest of the film.
So who is the witch of the movie's title? That would be the oldest daughter, Thomasin. We are never told her age, though she is clearly a teenager. The family first thinks a wolf took the child, but as tensions mount, this becomes a polite fiction. Thomasin was looking after her brother when he vanished, so naturally, she is doing the work of the devil. It isn't clear what prompted the family to think Thomasin a witch, or why. We tend to imagine people of this era attributing every odd occurrence to dark magic, but surely they had a deeper cosmology than that. Not once does anyone lash out at God for allowing such tragedy, a reaction that seems at least as normal as "because witches."
Robert Eggers, a former production and costume designer who somehow leapfrogged all other roles to direct The Witch, has been praised for the historical accuracy of the film. A note at the end states that many of the details, including dialogue, come "directly from period journals, diaries, and court records." No doubt the scenes and wardrobes are spot-on. I wonder also whether Eggers consulted a little book called The New England Primer. Published in 1727, but no doubt circulating in oral form long before, it includes a section called "A Dialogue between Christ, a Youth, and the Devil" whose lines are similar to a prayer uttered several times in the movie: "Oh God my Lord I now begin. Oh help me and I'll leave my sin," etc. Whether inspired or made up, it is an excellent detail (you can hear Thomasin reciting it around the 1:55 mark of this trailer).
One thing I could have done without is the decision to have the actors speak in the archaic tongue of the early 1600s. The film is full of "thee" and "thou," with the occasional "prithee." One character says, "Speak, if this be pretense," and other announces, "I'll to the wood." Early Modern English, which is what linguists call this time period, can feel like a different language. I had to turn on subtitles to make sure I didn't miss stuff, a practice I hate. (Diction wasn't the only reason. Despite setting the volume on my TV at 50, I strained to hear anything softer than a shout.) Many period pieces have not suffered from contemporary speech—Shakespeare in Love won seven Oscars without a single "thou"—so I don't understand Eggers's compulsion here.
Another thing I struggled to grasp was what constitutes a "witch" in Eggers's world. Toward the end of the film, Thomasin talks to Black Phillip, the family goat. Goats have long been associated with Satan, so does that mean a witch is someone who can talk to possessed animals? No, because two of the other children claim they've heard the goat talk. Thomasin kills her mother, so does that mean a witch is someone who commits murder? No, it was self-defense: her mother attacked her. Thomasin seems uninterested in magic and incurious about dark forces, so it must be that she is a witch because weird things are happening. There is that limited cosmology again. Black Phillip asks Thomasin if she wants to live "deliciously," and as far as I can tell, this vague invocation is the crux of Eggers's witchery. What does it mean to live deliciously? Kidnap babies, I guess.
The best horror films rely on suspense, not gore, and in that way, The Witch scores big. As I watched Katherine go insane with grief, Thomasin struggle with guilt, and William become Job-like (in addition to the baby, his crops died, his wife didn't trust him, and he watched another son die), I thought, all this plus witchcraft? But for a horror story, the evil force needs more definition. Michael Myers, Jason Voorhees, Fred Krueger—these are great horror villains because we can see them, and we know what they're about. The Blair Witch never appears in person, but we see her stalking the three filmmakers. We hear locals talk about kids being abducted and killed. Then Josh disappears. Problems are clearly supernatural in origin. In The Witch, I never felt that William's struggles couldn't be explained by his living arrangements: the American wilderness in the 17th century.
In terms of extras, this Blu-ray is not packed, but it does have a few nice elements. The audio commentary features Eggers alone. I am used to commentaries featuring several cast members in an improvised dialogue, but these quickly wear thin. A director-only commentary can be more focused and insightful, which this one certainly is. There is a short (eight minutes) making-of featurette, The Witch: A Primal Folklore, that should be a bit more in-depth. Much better is the Q&A mixing cast members with a pair of experts, novelist Brunonia Barry (The Lace Reader, The Map of True Places) and historian Richard Trask. The group discusses witchcraft in American history, especially the Salem witch trials, on which Trask has a unique perspective: two of his ancestors were hanged as witches.
Interesting as these features are, I will suggest one that should have been added: digital images of the "period journals, diaries, and court records" that Eggers drew on to make the film. I would have enjoyed seeing how those print sources were transformed into a cinematic narrative.
The Witch is an entertaining and though-provoking film. It works as a historical drama as well as a thriller. I wouldn't call it scary, and the filmmakers outsmarted themselves in a few places, making an intellectual choice when something simpler would have worked better. Still, it is an important film, one that makes an original and significant contribution to the horror genre.
PROGRAM INFORMATION
Year of Production: 2015
Type: Theatrical Release
Rating: R for Disturbing Violent Content and Graphic Nudity
Genre: Horror, Suspense
Closed Captioned: N/A
Subtitles: Spanish, English SDH
Feature Run Time: 92 minutes
BD Format: 1080p High Definition 16×9 Widescreen (1.66:1)
DVD Format: 16×9 Widescreen (1:66:1)
BD Audio: English 5.1 DTS HD-MA
DVD Audio: English 5.1 Dolby Digital Audio
ABOUT LIONSGATE
Lionsgate is a premier next generation global content leader with a strong and diversified presence in motion picture production and distribution, television programming and syndication, home entertainment, digital distribution, new channel platforms, video game sand international distribution and sales. The company has nearly 80 television shows on 40 different networks spanning its primetime production, distribution and syndication businesses. These include the critically-acclaimed hit series Orange in the New Black, the multiple Emmy Award-winning drama Mad Men, the hit broadcast network series Nashville, the syndication successes The Wendy Williams Show and Celebrity Name Game (with FremantleMedia), the breakout series The Royals and the Golden Globe-nominated dramedy Casual.
Its feature film business has been fueled by such successes as the blockbuster Hunger Games franchise, the first two installments of the Divergent franchise, Sicario, The Age of Adaline, CBS/Lionsgate's The DUFF, John Wick, Now You See Me, Roadside Attractions' Love & Mercy and Mr. Holmes, Lionsgate/Codeblack Films' Addicted and Pantelion Films' Instructions Not Included, the highest-grossing Spanish-language film ever released in the U.S.
Lionsgate's home entertainment business is an industry leader in box office-to-DVD and box office-to-VOD revenue conversion rates. Lionsgate handles a prestigious and prolific library of approximately 16,000 motion picture and television titles that is an important source of recurring revenue and serves as the foundation for the growth of the company's core businesses. The Lionsgate and Summit brands remain synonymous with original, daring, quality entertainment in markets around the world. See www.lionsgate.com.