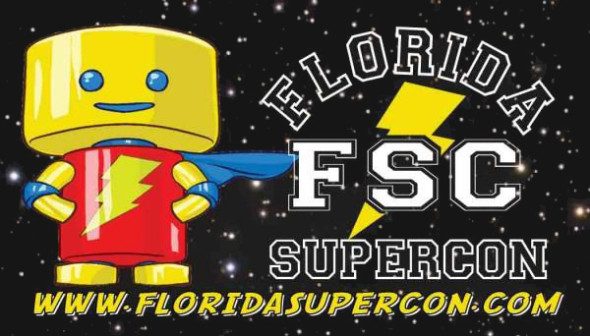 Press Release:
Florida Supercon is the LARGEST Comic Con in Miami. Supercon takes place JULY 1-4, 2016 at THE MIAMI BEACH CONVENTION CENTER and FILLMORE MIAMI BEACH AT THE JACKIE GLEASON THEATER!
Find the best in Comic Books, Media Guests, Anime, Animation, Video Games, Fantasy, Sci-Fi and Pop Culture in South Florida. Florida Supercon is 4 days of fun featuring celebrity guests, comic book creators, voice actors, industry guests, cosplayers, artists, writers, panels, Q&A's, films & shorts, costume & cosplay contests, vendors, parties, anime, workshops, video gaming and more!
Some of the highlights for Florida Supercon 2016 include:
Star Trek 50th Anniversary Celebration: William Shatner "Captain Kirk", Walter Koenig "Pavel Chekov", Michael Dorn "Worf", Denise Crosby "Tasha Yar", Robert Picardo "The Doctor", René Auberjonois "Odo", Robert Duncan McNeill "Tom Paris",  David Warner "Chancellor Gorkon & St. John Talbot", Chase Masterson "Leeta the Bajoran", and Star Trek: The Motion Picture Cinematographer Bruce Logan.
DC's Legends of Tomorrow star: Casper Crump "Vandal Savage".
FOX'S Gotham star: Ben McKenzie "Jim Gordon".
Doctor Who star: Alex Kingston "River Song."
The Walking Dead Cast Members: Michael Cudlitz "Abraham Ford", and Denise Crosby "Mary".
Star Wars Cast Members: Jeremy Bulloch "Boba Fett", Tim Rose "Admiral Ackbar", Jessica Henwick "Jessika Pava", Chris Parsons "4-Lom", and Star Wars: A New Hope special effects co-ordinator Bruce Logan.
First Time Ever TRON Reunion: Bruce Boxleitner "TRON", David Warner "Sark", Cindy Morgan "Yori", and TRON Cinematographer Bruce Logan.
Game of Thrones cast members: Natalia Tena "Osha" and Jessica Henwick "Nymeria Sand".
Harry Potter stars: Natalia Tena "Tonks", and Devon Murray "Seamus Finnigan".
Sesame Street cast members: Emilio Delgado "Luis" and Bob McGrath "Bob Johnson".
Steven Universe stars: Zach Callison "Steven", Michaela Dietz "Amethyst", and Grace Rolek "Connie".
Wrestling Superstars: Mick Foley, Diamond Dallas Page, Mickie James, The Godfather, Road Warrior Animal, and Demolition.
Pokémon 20th Anniversary Celebration: Veronica Taylor "Ash Ketchum", Michael Liscio Jr. "Clemont and Inkay", Tara Sands "Bulbasaur, Richie, Sammy, Oddish and Jasmine", Alyson Leigh Rosenfeld "Bonnie, Nurse Joy, Jasmine and Audino", and Haven Paschall "Serena, Concordia, and Ellie".
Anime Stars: Vic Mignogna (Fullmetal Alchemist, Dragon Ball Z, Ouran High School Host Club), Caitlin Glass (Fullmetal Alchemist, Attack on Titan, Ouran High School), Steve Blum (Cowboy Bebop, Samurai Champloo), Trina Nishimura (Attack on Titan, Witchblade, Claymore), and Mary Elizabeth McGlynn (Ghost In The Shell, Sailor Moon).
Animation Stars: Tara Strong (Teen Titans Go), Jeremy Shada (Adventure Time), Dana Snyder (Aqua Teen Hunger Force, Squidbillies), 

Jim Cummings (Winnie the Pooh, Tigger, Darkwing Duck), Larry Kenney (Thundercats, Count Chocula), Charles Martinet (Mario, Luigi, Wario, Waluigi, Toadsworth, Baby Mario, and Baby Luigi for Nintendo), Steve Blum (Transformers: Prime, Wolverine and the X-Men, Legend of Korra), and Andy Sipes (Triptank, Code Monkeys, and Archer).

Dozens of Comic Book Artists and Writers: Keith Giffen, Greg Capullo, Fabian Nicieza, Joe Keatinge, Leila del Duca, Neal Adams, José Luis Garcia-Lopez, Jorge Molina, Ramón Pérez, Jill Thompson, Colleen Doran, Scott Kolins, Allen Bellman, Scott Hepburn, Trevor Von Eeden, Elliot S! Maggin, Brad Walker, Khary Randolph, John Beatty, Shawn Crystal, Brent Schoonover, Cory Smith, Tony Bedard, Mateus Santolouco, Tony Bedard, Jose Delbo, Greg Horn, Andy Kuhn, and many more!
Power Ranger Cast Members: Austin St. John, Christopher Khayman Lee, Steve Cardenas, and Dan Southworth.
More celebrities including: Henry Winkler (Happy Days, Children's Hospital, The Waterboy), Kel Mitchell (Kenan & Kel, Good Burger, Mystery Men), Lisa Corrao (Every Witch Way), and many more to be announced!
Multiple costume and cosplay events each day of the show, with thousands of dollars in cash and prizes on the line!
Over 500,000 square feet of convention space featuring 700 booths and tables with vendors, celebrity guests, artists, filmmakers, and exhibits. 3 stages of entertainment, video games, plus a dozen rooms for panels, tabletop gaming and screenings.
Click here to get tickets.
FSC is JULY 1-4, 2016
THE MIAMI BEACH CONVENTION CENTER & FILLMORE MIAMI BEACH AT THE JACKIE GLEASON THEATER
1901 Convention Center Dr. • Miami Beach, FL 33139 • 305.673.7311
SUPERCON PHONE: 954.399.1330 info@superconventions.com