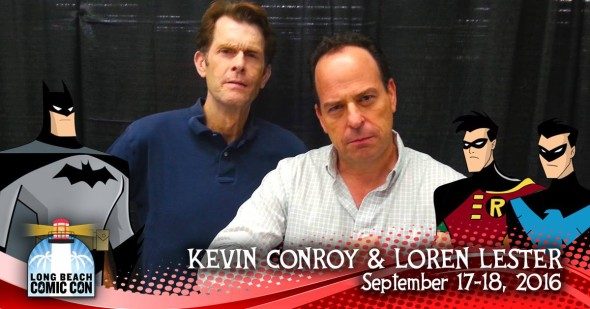 Press Release:
Kevin Conroy and Loren Lester to Appear Together in Long Beach This September!
Three months until Long Beach Comic Con returns to the Long Beach Convention Center – September 17 & 18, and MAD Event Entertainment is pleased to announce the addition of voice actors Kevin Conroy and Loren Lester to this year's show!
Appearing as the voices of Batman and Robin in the celebrated 1990s television series, Batman: The Animated Series, the two will appear at the LBCC for the first time together in a series of signings and a special Saturday panel, looking back at the series that remains a high watermark in animation nearly 25 years later!
Kevin Conroy holds the honor of having played Batman longer than any other actor in either live-action or animation. In addition to being credited for his two distinct voices for Bruce Wayne and Batman in Batman: The Animated Series, Batman Beyond, Justice League, and Justice League Unlimited Conroy has voiced the character in the direct-to-video DC Universe Animated Original Movies: Batman: Gotham Knight (2008), Superman/Batman: Public Enemies (2009), Superman/Batman: Apocalypse (2010), Justice League: Doom (2012), Justice League: The Flashpoint Paradox (2013) and Batman: Assault on Arkham (2014). He returned to the role again for the 2015 Rocksteady Studios game, Batman: Arkham Knight.
"Looking forward to the chance to reflect on my work for Batman The Animated Series, as we approach the 25th anniversary of the landmark series at the Long Beach Comic Con" said Kevin Conroy.
Loren Lester appeared alongside Conroy in the landmark animated television series as Dick Grayson, better known as Robin, and as Kirk Langstrom (Man-Bat) in Batman: Arkham Knight. He has also appeared as the voice of Hal Jordan (Green Lantern) in theDC Entertainment series, Batman: The Brave and the Bold, and as Iron Fist in Marvel's The Avengers: Earth's Mightiest Heroes and Ultimate Marvel vs. Capcom 3. Additionally, Lester has appeared in over 200 episodes of television including the cult favorite Star Trek: Deep Space Nine.
"This will only be the second time ever that Batman & Robin are at the same convention" notes Loren Lester. "I'm thrilled to be returning to see all my fans in Long Beach"
"We are so excited to have Kevin Conroy and Loren Lester join this year's Long Beach Comic Con " said Martha Donato, Long Beach Comic Con Executive Director and Co-Founder. "Not many shows can say they hosted the Dynamic Duo themselves!"
Conroy and Lester will appear throughout the weekend, and will revisit their roles as The Dark Knight and Boy Wonder on a special panel presentation of Batman: The Animated Series on Saturday September 17, in celebration of DC Entertainment's recently announced Batman Day.
Ticket prices will go up at the end of June, so don't miss your chance to save!
Click Here to get your tickets now!
Kids 10 & Under get in FREE with a paid adult. Limit 2 children per paid adult.
About Long Beach Comic Con:
Long Beach Comic Con is an annual event held at the Long Beach Convention Center each fall. It's a celebration of comic books and pop culture that showcases the exceptional works of talented writers, artists, illustrators and creators of all types of pop culture. At Long Beach Comic Con you'll find exhibitors promoting and selling all types of related products, as well as entertaining and educational programs, guest signings, and meet & greet sessions with celebrities. Long Beach Comic Con is a production of MAD Event Management, LLC. Visit www.longbeachcomiccon.com for additional information.