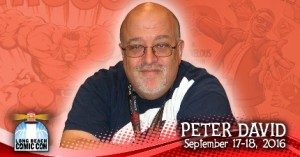 Press Release:
Fan favorite and self described "Writer of Stuff" PETER DAVID will be making his very first trip to the Long Beach Comic Con on September 17 & 18, 2016 at the Long Beach Convention Center!
We've wanted to have Peter as a guest for quite some time and we're happy to say he had the room in his busy schedule to join us for the 2016 LBCC!
A prolific writer Mr. David's work include a beloved twelve year run on The Incredible Hulk, as well as runs on Aquaman, Young Justice, and X-Factor. His TV work includes Babylon 5, Young Justice, and Ben 10: Alien Force. And then there's his many, many novels that include movie film adaptations, media tie-ins, and original works.
Right now a Weekend Pass for LBCC 2016 is just $50!
Saturday tix are $30 and Sunday is $25! Ticket prices will go up at the end of June, so don't miss your chance to save! Kids 10 & Under get in FREE with a paid adult. Limit 2 children per paid adult.
Click Here to get your tickets now!
About Long Beach Comic Con:
Long Beach Comic Con is an annual event held at the Long Beach Convention Center each fall. It's a celebration of comic books and pop culture that showcases the exceptional works of talented writers, artists, illustrators and creators of all types of pop culture. At Long Beach Comic Con you'll find exhibitors promoting and selling all types of related products, as well as entertaining and educational programs, guest signings, and meet & greet sessions with celebrities. Long Beach Comic Con is a production of MAD Event Management, LLC. Visit www.longbeachcomiccon.com for additional information.