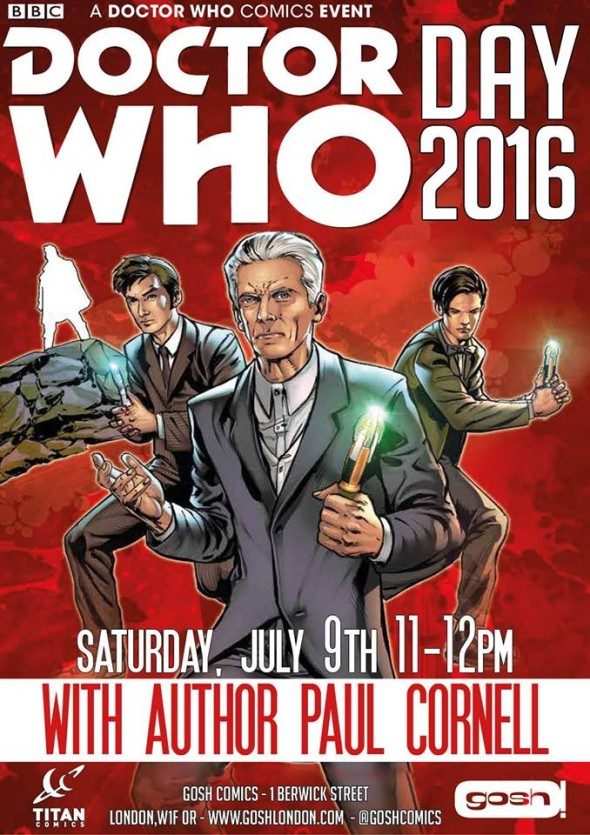 Press Release:
Gosh Comics is excited to be taking part in the annual Doctor Who Day with legendary whovian writer Paul Cornell. He will be signing from 11-12pm on Saturday, July 9th.
Doctor Who Comics Day is a global event inspired by Titan Comics' Doctor Who comic books. In its third year, the event is set to be even bigger with new comics and collections, signings and events across the globe.
2015's event tied-in with a special, brand-new, five-part weekly Doctor Who comics cross-over series by Paul Cornell and Neil Edwards, and saw comic readers get the chance to celebrate Doctor Who Comics Day at over 2900 locations including comic shops, bookstores, retail chains and libraries.
Paul Cornell is best known to Doctor Who fans as the writer of TV episodes like "Fathers Day" and "Human Nature/The Family of Blood" for the series, as well as his contributions to the the Virgin New Adventures series and BBC novels. Last year he wrote the event comic, Doctor Who: Four Doctors.
He's been Hugo Award-nominated for all three media, and has won the BSFA Award for his short fiction, and the Eagle Award for his comics. He's the writer of Saucer Country for Vertigo, Demon Knights for DC, and That Damned Band for Dark Horse. He's written acclaimed runs on Wolverine, Action Comics and Captain Britain. His new urban fantasy novel is London Falling.
Gosh Comics
1 Berwick St, SoHo, London W1F0DR
United Kingdom