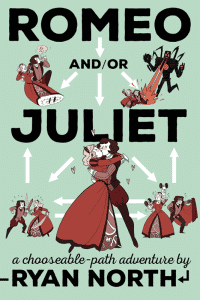 Press Release:
Come one, come all, to a very special launch event for ROMEO AND/OR JULIET, the new chooseable-path novel from Ryan North! You may remember Ryan North from his first chooseable-path novel To Be Or Not To Be, or great works like Machine of Death, Dinosaur Comics, Squirrel Girl, Adventure Time, and many more!
This event starts with a fun gathering and informal signing in front of The Beguiling on Tuesday, June 7th at 5:00 PM, followed by a group read-along at 6:00 PM, and informal signing with Ryan and some of the many excellent artists included in the book at 7:00 PM. Location is all outside, in front of The Beguiling, with rain-out location being inside The Central bar next door.
Joining us for this event will be the following artists of Romeo and/or Juliet:
Ryan North
Chris Jones
Dara Gold
Kean Soo
Lucie Whitehead
Chip Zdarsky
…and quite possibly more!
The Beguiling
601 Markham Street, Toronto, ON M6G 2L7
416-533-9168