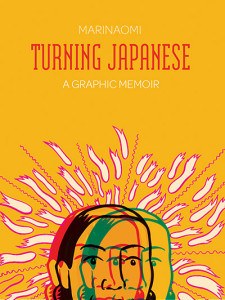 Cartoonist MariNaomi appears at Indy Reads Books to sign Turning Japanese on Thursday, June 16, 2016 at 5:30 PM!
About Turning Japanese:
In 1995, 22-year-old Mari has just exited a long-term relationship, moving from Mill Valley to San Jose, California. Soon enough she falls in love, then finds employment at an illegal hostess bar for Japanese expats, where she is determined to learn the Japanese language and culture. She hopes to finally connect with her Japanese relatives without her mother as a translator and filter. Turning Japanese is a story about otherness, culture clashes, generation gaps and youthful impetuosity.
MariNaomi is the author and illustrator of the SPACE Prize-winning graphic memoir Kiss & Tell: A Romantic Resume, Ages 0 to 22, the Eisner-nominated Dragon's Breath and Other True Stories, and her self-published Estrus Comics. Her work has appeared in over sixty print anthologies, and has been featured on such websites as The Rumpus, The Weeklings, LA Review of Books, Midnight Breakfast, Truth-out, XOJane, Buzzfeed, Bitch Media, and more. She is also the creator and curator of the Cartoonists of Color Database and the LGBTQ Cartoonists Database.
Indy Reads Books
911 Massachusetts Ave, Indianapolis, IN 46202
(317) 384-1496