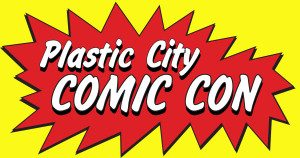 Convention Name
Plastic City Comic Con
Convention Website Address
http://www.PlasticCityComicCon.com
This convention will take place:
Date (Format mm/dd/yyyy)
07/30/2016
About This Convention
Plastic City Comic Con is the premier event for comics, toys and pop culture fans in North Central Massachusetts! Saturday July 30, 2016 10AM – 6PM at the Leominster Veteran's Center, 100 West St, Leominster, MA 01453. Jam packed with comic artists, writers, creators, and vendors! FREE ADMISSION!
Venue Name and Address
Leominster Veteran's Center
100 West Street
Leominster, MA 01453
United States
Map It
Number of Dealer/Exhibitor Tables
50
Projected Attendance
1,000
Please select the Category that best describes the convention
Comic Books
Additional Categories

Horror
Science Fiction and Fantasy
Collectibles

Guests
Paul Kupperberg, Veronica Fish, Andi Fish, Joe St. Pierre, Rich Woodall, and other local artists, writers, etc.