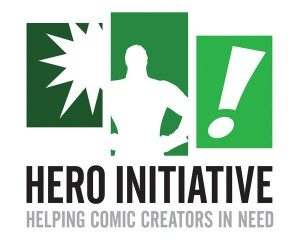 Press Release:
Legendary comic book creator and Hero Initiative spokesperson Denny O'Neil is coming to The Dragon on May 21st!
The purpose of this special event is to raise money for the Hero Initiative, which provides a financial safety net for yesterdays' creators who may need emergency medical aid, financial support for essentials of life, and an avenue back into paying work.
Starting at 2:00 PM, Denny will participate in an in-store signing event, with special guest Ty Templeton. CGC signature series is an option for this event. Autograph fee of $20 for CGC purposes. $10 for all other signatures, and Ty will be sketching. We will have lots of stories that Denny worked on available, and anything bought from The Dragon that day we will provide 10% to Hero Initiative.
In the evening we really kick it up a notch! We will be hosting a party with Denny! Denny will be interviewed by Ty about his long history in comics, and afterwards we will have a meet & greet with the pros. Limited capacity for this event! Tickets will be available at The Dragon.
Seriously, you need to be here and help us raise money for a hugely important cause.
Denny O'Neil wrote or worked as editor on some of the most famous books in comic history!
Denny wrote the Green Lantern / Green Arrow 'Hard Luck Heroes' stories that pushed the boundaries of comics in the 70's. He wrote some of the most famous Batman stories of the 70's, including The Laughing Fish. He wrote Iron Man when Tony Stark gave up being Iron Man. He had Superman face the greatest of all time in 'Superman vs Muhammad Ali'.
He created the characters Ra's Al Ghul, Talia Al Ghul, Azrael, Green Lantern John Stewart, The Iron Monger (the villain in the first Iron Man movie), and put James "Rhodey" Rhodes in the Iron Man armour.
As editor of the Batman universe he oversaw some of the most famous or important Batman stories of all time, such as: 'The Dark Knight Returns', 'Batman Year 1', 'Batman Year 2', 'KnightFall', 'No Man's Land', 'The Killing Joke', '10 Nights of the Beast', 'Batman/Grendel', and he even edited Daredevil issues 163-200, the Frank Miller run which is basically Season 1 & 2 of the Netflix show.
The Dragon
Old Quebec Street Mall, 55 Wyndham St. N., Guelph, Ontario N1H7T8
519-763-5544