A few years ago, when I was still in high school, a person who liked anime was made fun of for it. My school had a manga/book club, and the entire group was often ridiculed by jocks who wouldn't know good writing if it were mixed in their protein shakes. Despite this, I grew to love the art form, and when I learned that there were whole conventions devoted to it, I begged my dad to take me to one. Surprisingly, he agreed.
Anime conventions were smaller then, including my first, Ichibancon 2012, which was held at a tiny hotel in Charlotte, NC. I originally went with two friends to meet none other than Vic Mignogna, who was–and remains to this day–my favorite voice actor. We stood in his autograph line for about 30 minutes, and when I finally got to his table, I said "Hi" in a talking-to-your-crush-for-the-first-time voice.
Now, five years later, I'm still going to that same convention. It was held this year over New Year's Day weekend at Embassy Suites Hotel in Concord. Comparing this year's Ichibancon to the one in 2012 is like comparing the inside of the TARDIS to the inside of my closet. Over 5,000 attendees pre-registered this year, which doesn't include those who bought a badge on-site. I don't think 5,000 people even knew about it in in 2012. The cosplayers were awesome. I saw anime, Marvel, and DC characters, plus assorted Pokemon and pop culture figures (the guy dressed as John Cena was meme-tastic). One group of cosplayers was from Undertale, a video game that just came out, which was impressive in its immediacy and quality. Dozens of panels were scheduled on just about any nerdy topic you could imagine, even for Homestuck, the webcomic created in 2009 by Andrew Hussie. The gamers had their own room: dozens of PlayStations and Nintendos (and I don't mean Nintendogs) projected onto the walls. There was even a TARDIS bouncy house for all the children. I didn't see the cosplay contest, but I'm sure it was fabulous, especially since, for the first year, a $500 prize was available for first place (this would probably cover the cost of half an automail leg).
Speaking of automail, I got a chance to talk to my five-years-ago idol, Vic Mignogna. Vic is the Johnny Depp of anime. Other voice actors were there, including several members of the cast of Durarara!! (Saki Mikajima, Kasuka Heiwajima, Seiji Yagiri, and Saburo Togusa), whom you don't see often. But Vic was clearly the biggest draw: one girl came all the way from New Jersey to meet him.
After seeing him a dozen or more times over the years, I felt more relaxed than that initial time. Here is what we discussed.
Me: As Edward Elric, you're very emotional and over the top. Then you recently switched to playing Kasuka on Durarara!! who is emotionless with a very emotional brother. What was that like?
Vic: You know, I have to tell you, I'm kind of naturally emotional and expressive with my voice. Then, when I was doing Durarara!!, started, and they asked me, can you take the emotion out of it? Can you make it flatter? I'm thinking, it's pretty flat already. So, yeah, that was a big change.
Me: How long have you been doing conventions?
Vic: Wow. Honestly, maybe a total of thirteen years.
Me: How did you get started?
Vic: Well, I got started in voice acting sixteen or seventeen years ago, and I didn't know anything about conventions. In fact, there weren't any at the time. Then, a few years into my career, I saw Monica Rial, and she said to me, "Hey, do you want to go to an anime convention?" I was like, "A what? They have conventions?" I went to Star Trek conventions when I was a little boy, but I had never been to an anime convention. So I went as a guest to one in Ohio, in Columbus, and I was just blown away. I couldn't believe that there were these wall scrolls with my characters on it and pencil boards and plushies. I had no idea this stuff existed. That was the first one I went to, and of course it ramped up since then.
Me: I've also seen you at conventions like DragonCon that are not strictly anime conventions. Talk about the difference between those.
Vic: Anime conventions are very special in and of themselves. There is a real strong sense of community because everybody is there because they love this one specific genre of entertainment. Multicultural, pop culture conventions are more of something for everyone. It's nice to have an anime presence there, but they don't typically have the same feeling, a sense of family that you get at an anime convention. I suppose it would probably be the same for any convention that pertains to one thing. If you went to a Supernatural convention, it's a little more focused. But I enjoy pop culture conventions, mostly because I'm a big sci-fi fan myself, so it's a real pleasure to get to meet other sci-fi actors that I'm a fan of.
Me: Who is your favorite celebrity you've ever met?
Vic: Oh, Bill Shatner, of course. I've loved Captain Kirk since I was a little boy. [Want to see Vic as a little boy? Click here.] And you know, when I was young, I used to go to Star Trek conventions, and he is the only one of the original cast I never got to meet. Now, to literally be represented by the same manager who represents Bill, we get booked into conventions together, and we've gotten to have dinner together and travel a little bit and hang out, so it's a real privilege.
Me: Have you had to suppress the urge to squeal like a fangirl?
Vic: All the time. All the time. [Laughs.] I want to respect him and not turn into one of those fanboys he's dealt with for forty years.
Me: I read on your Wikipedia page that you were once a law enforcement officer.
Vic: I was. Right after college, my mom, who lives on the eastern shore of Maryland, was very good friends with the chief of police in the city where she lived. She always used to brag to him about her son who was a moral, ethical, upstanding member of the community. And so he said, well, I'd like to have someone like that on the police force. I didn't have any plans right after college, so I went back there and went through the police training and became a cop for two years. It was never a career move. I enjoyed it a lot, but it isn't something I want to do forever.
Me: It takes a special person to do that job.
Vic: It does. And to deal with the darker side of humanity so much of your life, always having to enforce the laws and deal with people breaking the rules can make a person very cynical and depressed.
Me: I have a copy of your Gospel of John CD. What was the genesis [see what I did there?] of that project?
Vic: Actually, it's kind of interesting. I was at a convention, and a mother came up to me and said, "My daughter loves your work. She could sit and listen to you for hours. She loves your voice. You could read the phone book and she would listen to it." I thought, what a nice thing to say. Then I thought, maybe not the phone book, but what if I were to record something of more importance and give it away. So I went home and recorded the Gospel of John and used a contemporary translation and played the piano underneath it to make it easy to listen to. I put a lot of money into it myself to get all the discs pressed, and now I give it away at conventions because what better thing to give to fans of my work than something that is very precious to me?
Me: Do you have plans to do more books?
Vic: I would love to, but it takes a lot of time, and to be honest, I don't know what book I would do. There aren't a lot of books of the Bible that stand by themselves, that tell the whole story. If you're gonna get one chance to tell someone the story of Jesus, why he came, what he did, his ministry, his rising again, all of that, it's all pretty self-contained in the Gospel of John. So I don't know what book I would do, and it's very time-consuming. I don't have a lot of time, especially now with the Star Trek series I'm doing.
Me: So the Star Trek series is still going well?
Vic: Oh yeah. Bigger than ever. We just finished shooting episode six. Popularity is growing, and viewership is growing. At the risk of sounding partial, it's fantastic. It looks and feels and sounds exactly like the original series. We have managed to continue the original series in every way, so you feel like you're watching episodes that were never broadcast.
Me: But they're all original stories.
Vic: Oh yes. From the recreation of the sets to the lighting, costumes, make-up, story, music, editing, characters—everything. No amount of description can prepare you for the quality. And it's free. Just go to startrekcontinues.com. The first episode is wonderful, and the second is better than the first, and the third is better than the second. They just get better and better
Me: Last question. What is it like dealing with all the fangirls who are much younger than you?
Vic: Well, it's kind of funny because, if I were half my age, I would be flattered. But I really look at it more like a father looking at younger people and going, Man, if I can give some joy to this person, if I can make them feel special about themselves, because so many of these kids are struggling with who they are and their place in the world and their security and self-esteem. I feel as if I have been given an opportunity to be an encouragement, somebody that they look up to and notices them and compliments them and puts his arms around them and gives them a big hug and engages with them. I think that's very important. I didn't used to realize how important that is, and over the years, with all the emails and letters I've gotten and interactions I've had at conventions, I've come to realize that God has put me here for a very specific purpose, and that is to bring encouragement and love and kindness and support to a lot of people who are at a very sensitive crossroads in their lives.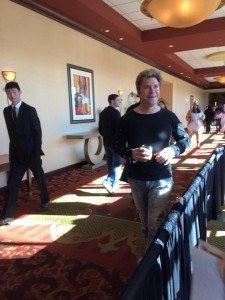 Of course, everyone has their criticisms no matter how much they enjoy something, and Ichibancon was not without flaws. For one thing, it needs a larger venue. There were lines to get into the dealer room and artist alley, and some of the panels were standing room only. Parking was ridiculous. I squeezed my car in next to a dumpster, and I saw people walking over from car dealerships and other hotels. According to one staff member, however, the only place large enough to expand to is the Charlotte Convention Center, whose surrounding hotels are much more expensive–$240 a night or more. Anime conventions are largely attended by teenagers, who don't have much money (and spend what they do have on Call of Duty).
It was clear from artist alley and the dealer room that neither of them was "juried." Some conventions judge vendors' merchandise ahead of time and then make decisions on who gets a slot. This is done to make sure there is enough variety and quality in the room. Ichibancon, it seems, didn't do this because there was a lot of repetition in both areas. Merchandise was mostly plushies, posters, and wall scrolls. There was no manga, and I saw only one dealer selling comic-related stuff (usually, there are more).
Even with all these negative things going on in the convention, that is no reason for the muggles to boycott this convention (I saw a picketer in the parking lot). In fact, I believe that this convention is the perfect one for any anime convention newbies.