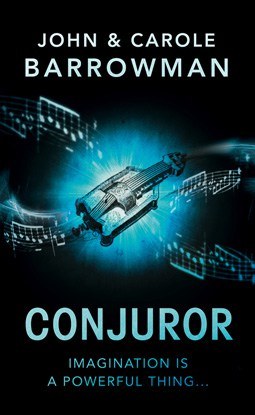 Press Release:
John Barrowman (Arrow, Doctor Who, Torchwood) and his sister and co-author Carole Barrowman will be touring the UK from 6 to 13 May to sign copies of their new novel CONJUROR. Confirmed venues for the tour are:
Friday, 6 May, 5.00pm:
Waterstones Cardiff, 2a The Hayes, CF10 1WB
Saturday, 7 May, 1.00pm:
Waterstones Bluewater Shopping Centre, West Village, Greenhithe, Bluewater, Kent DA9 9SE
Sunday, 8 May, 1.00pm:
Foyles, 107 Charing Cross Rd, London WC2H 0DT
Monday, 9 May, 5.00pm:
Waterstones Reading, Broad Street United Reform Building, 89a Broad Street, Reading, RG1 2AP
Tuesday, 10 May, 4.15pm:
Waterstones Newton Mearns, 38 Avenue Centre, Newton Mearns, G77 6EY
Wednesday, 11 May, 5.00pm:
Waterstones Edinburgh West End, 128 Princes Street, Edinburgh, EH2 4AD
Thursday, 12 May, 5.30pm:
Waterstones Manchester Arndale Centre, Manchester, M4 3AQ
Friday, 13 May, 5.00pm:
Waterstones Birmingham, 24-26 HIgh Street, Birmingham B4 7SL
There is no pre-booking for the Waterstones' events – just come along and join the queue. For Foyles, you may register for a Priority Queue ticket, which will also enter you into a draw for some fun prizes. Visit the Foyles site for details of their event and how to register for the competition:
As well as Conjuror, you may also bring John and Carole's other books for signing at these events. They will not sign other items, such as DVDs, CDs or action figures. You may take photos while in the queue but please do not ask John and Carole to pose for photos with you as time at the events is limited, and this would mean that some fans would not be able to have their books signed.
ABOUT CONJUROR:
Seventeen-year-old Rémy Dupree Rush is the last of his kind. He's a Conjuror, a descendant of an ancient African bloodline that can change reality with music. Seventeen-year-old twins, Matt and Em Calder, are the most powerful of their kind. They are Animare, descendants of an ancient order of artists whose imaginations can bring art to life and travel through paintings. Malevolent forces that only a Conjuror can stop are rising in the world. Rémy must enlist the Calder twins' help to battle them.
Reaching back to the Spanish Inquisition and the Atlantic slave trade, this supernatural thriller sprints from the streets of Chicago across the rooftops of central London to the art galleries of Glasgow and the highlands of Scotland, ending in a mind-blowing clash in southern Spain where (with help from the artist, Caravaggio) Rémy, Matt and Em confront an evil conceived in chaos at the beginning of time.
Conjuror will be published in the UK by Head of Zeus on 5 May and is now available for pre-order from Waterstones, Amazon and other booksellers.