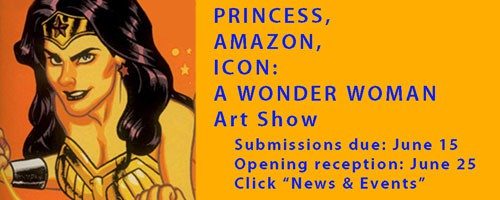 Hub Comics in Somerville's Union Square is hosting a Wonder Woman-themed art show this June and is currently soliciting submissions from artists! See below for further details.
Press Release:
With the strength of Demeter, the wisdom of Athena, and the beauty of Aphrodite, she is WONDER WOMAN–and HUB COMICS wants YOU to help celebrate her past, present, and future by contributing to PRINCESS, AMAZON, ICON: A WONDER WOMAN Art Show! We want local artists' interpretations of DC Comics' fiercest fighting female: 2-D and 3-D art is eligible; as are all the mash-ups, variations, and reinterpretations you can think of.
The opening reception will be on SATURDAY, JUNE 25th, with the show running through July. If you're an interested local artist, please send us an email at hubcomics [at] gmail [dot] com with "Wonder Woman art" in the subject line. Please attach a jpeg of your submission, required no later than WEDNESDAY, JUNE 15th. (You will be notified if your piece has been accepted by MONDAY, JUNE 20th. Because of space limitations, we may not be able to accept all submissions.) In your submission email please include your name, title, medium, and size of the piece, as well as pricing information if applicable. All accepted pieces must be ready for hanging/installation and must have that same information (name, title, medium, size, price) on the back.
As we near Wonder Woman's 75th anniversary, help us promote peace, truth, and sisterhood throughout Man's World with your best homages to comics' most timeless heroine!
Hub Comics – Union Square
19 Bow Street, Somerville, MA 02143
617-718-0987