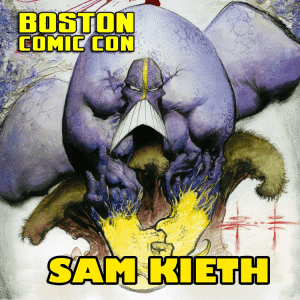 Press Release:
Boston Comic Con is excited to announce two incredibly rare appearances by superstar creators Sam Kieth and John Cassaday! They will both be available to meet fans and sign comics on Friday August 12 and Saturday August 13.
Sam Kieth is best known for his creator-owned titles The Maxx and Zero Girl and holds the distinction of co-creating The Sandman alongside writer Neil Gaiman. The Maxx was also adapted into an animated television series for MTV. Other notable work includes Four Women, Ojo, Batman, Lobo, and Wolverine/Hulk and many more titles. This is Kieth's first East Coast appearance in over a decade!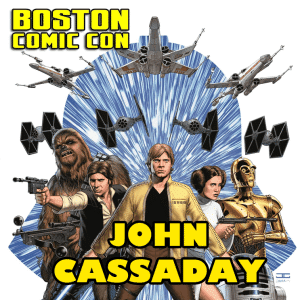 John Cassaday is a fan-favorite artist with acclaimed runs on Planetary, Captain America, Astonishing X-Men, and most recently Marvel's new Star Wars series. He has worked for every major publisher and drawn covers for titles including Batman, Superman, The Lone Ranger, Avengers, Spider-Man and more. Additionally, Cassaday has provided conceptual art for the feature film adaptation of Watchmen and directed an episode of Joss Whedon's Dollhouse.
These are two stellar additions to a guest list already filled with exceptional talent including Jae Lee, Erik Larsen, Terry Dodson, Mike Allred, Greg Capullo, Adam Hughes, Arthur Adams, Amanda Conner, David Lloyd, Jimmy Palmiotti, Phil Jimenez, Scott Snyder, Mark Waid, Bernie Wrightson, Stan Sakai, and many more! and many more. No comic fan will want to miss out on this opportunity!
Tickets are on-sale now at the link!
About Boston Comic Con:
The Boston Comic Con is a 100% independently run comic book show committed to bringing the biggest and best comic creators to New England. Run by fans for fans, Boston Comic Con is not affiliated with any other convention tour or corporate interests. Hosting over 120,000 square feet of vendors selling comic books, toys, posters, trading cards, and other pop culture memorabilia, this is a destination event for geeks of any stripe. This year's convention will be held Friday August 12th, Saturday August 13th, and Sunday August 14th at the Seaport World Trade Center, 200 Seaport Blvd, Boston, MA 02210. For more information please go to our website at www.bostoncomiccon.com and follow us on Twitter (@BostonComicCon) and Facebook!