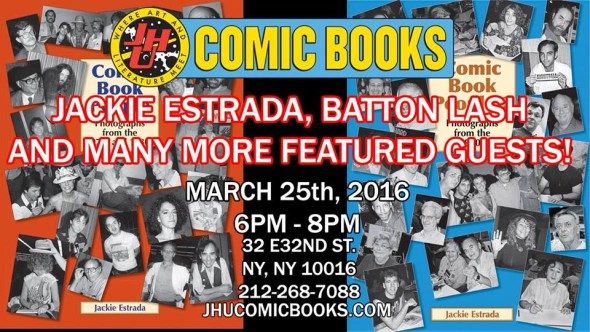 Press Release:
JHU Comic Books is proud to host a signing for Comic Book People 2, where you will get to see and meet SO MANY amazing talents in the world of comics!
For so many years, Jackie Estrada has been an instrumental figure in comics, having been instrumental to the growth and success of the SDCC, as adminstrator of the Eisner Awards and has taken so many amazing photos of your favorite talent in that time period!
Jackie Estrada, Batton Lash, Danny Fingeroth, Calvin Reid, Alex Simmons, Mary Wilshire, Elaine Lee and Dean Haspiel will all be there on Friday, March 25, 2016 at 6:00 PM, with more special guests to be announced!
*Purchase of Comic Book People or Comic Book People 2 required to participate in signing event.
COMIC BOOK PEOPLE VOL 2 PHOTOGRAPHS FROM 1990s
This high-quality hardcover coffee table book offers a unique peek at the comics industry in the 1990s. It features some 600 candid photos of comics creators taken by Jackie Estrada at the San Diego Comic-Con, WonderCon, Chicago ComiCon, APE, SPX, and other shows during the decade, along with commentary and anecdotes about each person. The photos depict not only the big names of the period but also up-and-coming stars early in their careers as well as Golden and Silver Age comic book greats who were still with us.
JHU Comic Books MANHATTAN
32 East 32nd Street, New York, NY 10016
(212) 268-7088