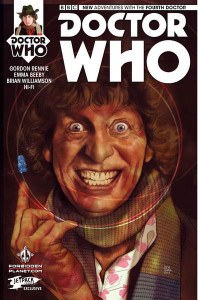 Press Release:
GORDON RENNIE appears to sign 4th DOCTOR #1 (Forbidden Planet exclusive variant cover) at Forbidden Planet Newcastle on SATURDAY 26th MARCH from 1 – 2pm!
Victorian England. A mysterious woman commands a hidden army in a house of the blind. Scryclops stalk the streets. and something alien and terrible screams from prehistory – with a hunger that cannot be satisfied! The Fourth Doctor and Sarah Jane Smith return for an all-new adventure: GAZE OF THE MEDUSA!
Gordon Rennie is a Scottish comics writer, responsible for White Trash: Moronic Inferno, as well as several comic strips for 2000AD, and for writing for WarHammer Fantasy. His first work was published in Blast! Magazine in 1991.
Together with Emma Beeby, he's also written The Doomsday Quatrain and sections of 1001 Nights for Big Finish Productions.
Forbidden Planet
59 Grainger Street Newcastle NE1 5JE UK
0191 261 9173