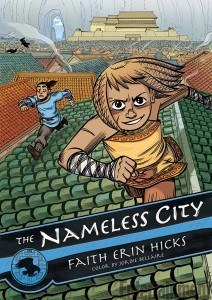 Faith Erin Hicks, comics creator and author of "Adventures of Superhero Girl" and "Friends with Boys," appears at Fantom Comics on Monday, April 4, 2016 at 6:30 PM to sign copies of her new graphic novel "The Nameless City."
The Nameless City is the story of an unlikely friendship that forms between Nameless City native Rat, and Kai, whose country has recently conquered her city. The two must find common ground between their cultures in order to foil a sinister conspiracy that threatens to tear the city apart.
Hicks has created a beautiful and intricate world inspired by Central Asia and the Silk Road in which the besieged inhabitants of an ancient city are desperate to learn the secrets of the perished civilization which carved the city out of living rock.
Faith Erin Hicks is a writer and artist based in Vancouver, BC. Her first two graphic novels, Zombies Calling and The War at Ellsmere, were published by SLG Publishing. She has illustrated First Second's Brain Camp and wrote and illustrated Friends With Boys, a coming of age story with supernatural elements and a musical about zombies. Nothing Can Possibly Go Wrong is her most recent graphic novel.
Fantom Comics
2010 P St NW, Washington, DC 20036
202-241-6498