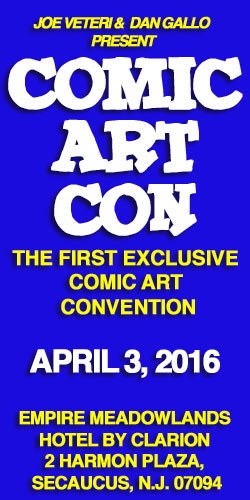 Press Release:
The next Comic Art Con is just one month away and will be held on Sunday, April 3, at the Clarion Empire Meadowlands Hotel in Secaucus, NJ. Admission is only $10 and children under 12 are free! Show hours are 10:00 – 4:00 so be sure to arrive early and plan on spending the day. Parking is free and yes, the parking structure has been repaired so there will be plenty of on site parking and no need for the shuttle!
Now in its eighth year, Comic Art Con will once again be in the hotel's massive 5000 square foot main ballroom. As usual, the sold out room will have 45 tables jammed packed with original comic book art from the biggest names in the hobby!
Vendors: Anthony Snyder, Bechara Maalouf, Will Gabri-EL, Frank Giella, Hans Kosenkranius, Jim Warden, Rich Donnelly, Albert Moy, Brad the Savage, Scott Eder, Mike Burkey, Dan Jerome, Zaddick Longenbach, ComicLink, ComicConnect, Tedd Kessler, Gene Park, Hake's Americana
Guest Artist: Rudy Nebres is a Filipino comics artist who has worked mostly as an inker in the American comic book industry. Known for his lush, detailed inklines, Nebres' most prolific period was in the late 1970s and the 1980s on titles including Doctor Strange, Deadly Hands of Kung Fu, and Savage Sword of Conan.
Also appearing will be Deadpool artist Reilly Brown! Mr. Brown will be appearing courtesy of his representative Anthony Snyder so be sure to stop by and see him at Anthony's booth. For any questions regarding Mr. Brown, including purchasing published works and commissions, please contact Anthony Snyder through his website www.anthonyscomicbookart.com
Robert Wayne Dennis of Comic Art Restoration Services will also be setting up. Mr. Dennis is an expert in the area of comic art restoration, and text & logo stat reproduction and has years of experience in stat reproduction, cleaning, tape removal, tear seals, glue residue removal, and image reconstruction. If you have any questions in advance of the show, you can call him at (903)513-1326 or email him at agraphicstateofmind@gmail.com . Robert can quote you a price on the spot and he will be accepting comic art in person at the show.
A few tables are available! We get contacted in the days and weeks before every event requesting tables but unfortunately we rarely have them as there is never any turnover from our existing vendors. For the first time we are offering a handful of tables in the lobby / staging area. These tables are outside the main ballroomand adjacent to where you check in. Cost is $150 and will be sold on a first come first serve basis with immediate payment required.
For more information please go to www.comicartshowcase.com or email us directly at dgallo1291@aol.com