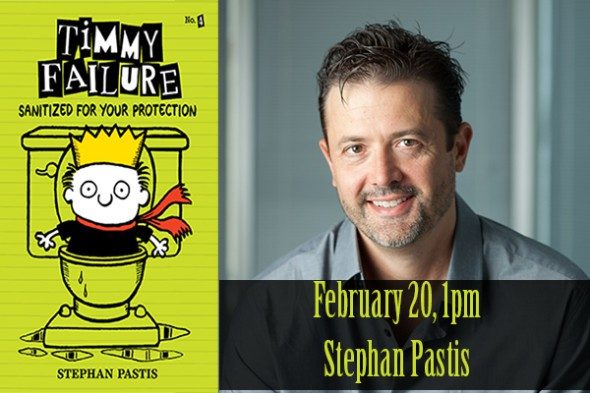 Cartoonist Stephan Pastis appears at An Unlikely Story on Saturday, February 20, 2016 at 1:00 PM!
ABOUT THE AUTHOR:
Stephan Pastis is the creator of Pearls Before Swine, an acclaimed comic strip that appears in more than seven hundred newspapers and boasts a devoted following. His first book for young readers, Timmy Failure: Mistakes Were Made, was an instant New York Times bestseller with two widely acclaimed follow ups released in 2014. The fourth book in the series, Timmy Failure: Sanitized for Your Protection releases in October 2015. He lives in Northern California.
ABOUT THE BOOK:
Some surprising news sends Timmy Failure on a hilarious caper as the "New York Times" best-selling series continues. "Behold You are all about to be witnesses to greatness." In this fourth volume of Timmy Failure's memoirs, Timmy is forced to hit the road in a cross-country trip that includes Timmy's mom, Total the polar bear, Doorman Dave, and smells-like-a-tangerine criminal mastermind Molly Moskins. It's a world gone mad, where good becomes bad, and Timmy Failure is a condemned man. Someone call the authorities…
Further details and registration available at the link.
An Unlikely Story
111 South St, Plainville, MA 02762
(508) 699-0244