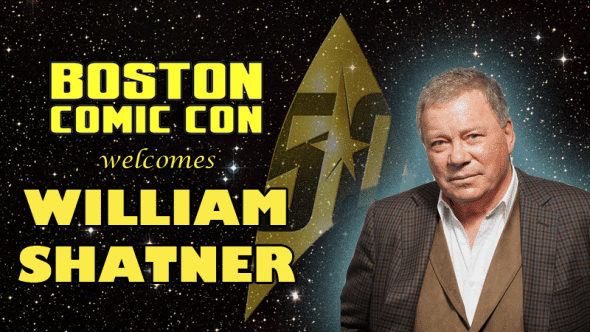 Iconic actor WILLIAM SHATNER beams down to Boston Comic Con to celebrate the 50th anniversary of STAR TREK, the most beloved sci-fi franchise in history! As Captain James T. Kirk, Mr. Shatner led the intrepid crew of the starship Enterprise through the eponymous television series, an animated show, and seven feature films as well as participating in the creation of comic books, video games, novels, and more. This is the exclusive New England convention appearance by Starfleet's most venerated hero in 2016!
William Shatner has cultivated a career spanning over 50 years as an award-winning actor, director, producer, writer, and recording artist. In addition to Star Trek he has played the title character in the cop drama TJ Hooker, hosted the reality show Rescue 911, and memorably starred as attorney Denny Crane in both The Practice and its spinoff Boston Legal, a role which earned him two Emmys and a Golden Globe award. He is one of Hollywood's most recognizable figures with many other notable appearances including The Twilight Zone, The Man from UNCLE, Mission: Impossible, Miss Congeniality, and numerous commercials as a celebrity pitchman. He has also written the TekWar series of science fiction novels which was adapted for television.
William Shatner will appear at Boston Comic Con on Friday August 12th and Saturday August 13th ONLY. Further details including signing times, photo ops, and VIP packages will be forthcoming as the show draws closer. Please follow our social media for updates and more guest announcements.
A special William Shatner VIP Experience package is available.  William Shatner appears during Boston Comic Con night at Fenway Park on Friday night, in a special private Q&A session as part of the William Shatner VIP Experience, and will be available at the event all day on Saturday for autograph sessions and photo opps. (Pricing and schedule for Saturday will be announced soon).
Tickets are on-sale now at the link!
About Boston Comic Con:
The Boston Comic Con is a 100% independently run comic book show committed to bringing the biggest and best comic creators to New England. Run by fans for fans, Boston Comic Con is not affiliated with any other convention tour or corporate interests. Hosting over 120,000 square feet of vendors selling comic books, toys, posters, trading cards, and other pop culture memorabilia, this is a destination event for geeks of any stripe. This year's convention will be held Friday August 12th, Saturday August 13th, and Sunday August 14th at the Seaport World Trade Center, 200 Seaport Blvd, Boston, MA 02210. For more information please go to our website at www.bostoncomiccon.com and follow us on Twitter (@BostonComicCon) and Facebook!