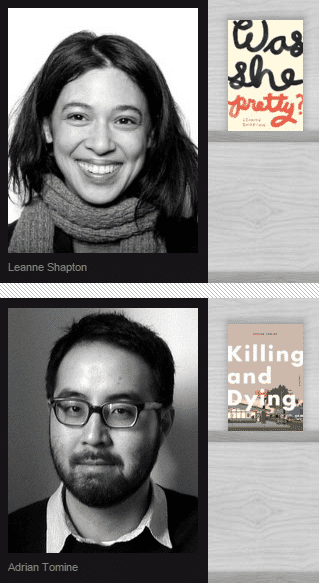 Press Release:
Harvard Book Store welcomes illustrator and co-author of Women in Clothes LEANNE SHAPTON and Optic Nerve cartoonist ADRIAN TOMINE for a discussion of their graphic novels Was She Pretty? and Killing and Dying on Thursday February 4, 2016 at 7:00 PM.
About Was She Pretty?
What's left when a relationship ends? Where does jealousy come from? Delicately and sensitively, Leanne Shapton (Swimming Studies) ruminates on ex-lovers, and our lovers' ex-lovers. A few expressive pencil lines outline a long-abandoned winter coat here, an ineffably alluring Mona Lisa smile there. Each double page describes the way all exes are captured: as impossible to live up to as a Polaroid taken at a flattering angle.
This new paperback edition of Was She Pretty? brings the reader deep into a circle of phantoms: its intimate liaisons, embarrassing secrets, and sardonic anecdotes. Shapton introduces the obsessives and the dilettantes, the poets and the actresses, the people with great hair and the people with idiosyncratic clothes. As funny as it is insightful, Was She Pretty? speaks to a central human concern: How do we compare? Elegantly drawn and perfectly narrated, the pages of Was She Pretty? are a testimonial to the power of observation and misapprehension.
About Killing and Dying:
Killing and Dying is a stunning showcase of the possibilities of the graphic novel medium and a wry exploration of loss, creative ambition, identity, and family dynamics. With this work, Adrian Tomine (Shortcomings, Scenes from an Impending Marriage) reaffirms his place not only as one of the most significant creators of contemporary comics but as one of the great voices of modern American literature. His gift for capturing emotion and intellect resonates here: the weight of love and its absence, the pride and disappointment of family, the anxiety and hopefulness of being alive in the twenty-first century.
"Amber Sweet" shows the disastrous impact of mistaken identity in a hyper-connected world; "A Brief History of the Art Form Known as Hortisculpture" details the invention and destruction of a vital new art form in short comic strips; "Translated, from the Japanese" is a lush, full-color display of storytelling through still images; the title story, "Killing and Dying," centers on parenthood, mortality, and stand-up comedy. In six interconnected, darkly funny stories, Tomine forms a quietly moving portrait of contemporary life.
Tomine is a master of the small gesture, equally deft at signaling emotion via a subtle change of expression or writ large across landscapes illustrated in full color. Killing and Dying is a fraught, realist masterpiece.
Harvard Book Store
1256 Massachusetts Ave., Cambridge, MA 02138
(617) 661-1515