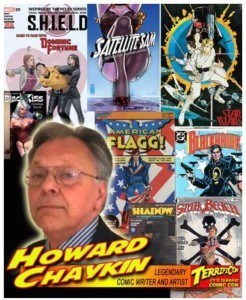 Press Release:
TerrifiCon is unwrapping our gifts a few days early and we don't care if you've been naughty or nice!
We are presenting the fans our first, new legendary comic creator who will be appearing alongside, comic writers, artists, TV/movie actors on August 19-21 at the lavish Mohegan Sun convention center in Uncasville, CT as we present the terrific comic con…
Please welcome, the one and only, artist and writer, HOWARD CHAYKIN to his first ever con appearance in Connecticut!
Mr. Chaykin was born in 1950 in New Jersey but raised in East Flatbush and Brownsville, a neighborhood in Brooklyn, NY. He started out as a gofer for the legendary artist Gil Kane at 19, which also led him to work for Wally Wood, Gray Morrow, Neal Adams and Byron Preiss, all of whom are greats in the field of comics. This is where he honed his skills as an artist and a writer. Before starting to work in film and television he was one of the pioneers of the graphic novel with "Stars Be My Destination" and "Empire." He was also the artist of the comic adaptation of "Star Wars" as well as the artist of one of the "Luke Skywalker" movie posters for the film. He also created the revolutionary comics "American Flagg" and "Black Kiss" and did modern updates of "The Shadow" and "Blackhawk". He's worked on the original "Flash" TV series, and more recently on comics like "Satellite Sam" with Matt Fraction, SHIELD and many more!
Fans can meet Mr. Chaykin, on August 19-21 at the Mohegan Sun as Big Fedora Marketing, LLC presents the Terrific Comic Con – TERRIFICON!
Be sure to follow us throughout 2016 as we keep adding to our guest list of creators, featured artists, announce events, costume, trivia contests and more surprises.
Plus the finest DEALERS and EXHIBITORS in the North East will be there with terrific items to buy from original art, toys, clothes, statues, Funko and of course – COMICS! (if you want to be part of it remember booths/tables go ON SALE IN JANUARY). TICKETS ARE ON SALE IN FEBRUARY.
You can follow the latest news here on Facebook on this page or in our group "TerrifiCon at the Mohegan Sun August 19-21, 2016."
Hear me, Mitch Hallock, "King of the Nerds" on CT's favorite morning show – CHAZ & AJ on WPLR, WDRC and 95.9 FOX radio as your friendly neighborhood producer of cons reviews the latest news in pop culture!
Follow the Terrific Comic Con on Twitter @itsterrificon Instagram @terrificon_2016 or sign up for our newsletter on our website : www.terrificon.com
We are going to rock Connecticut and the surrounding states this Summer and are thrilled to have you along for the ride. Be sure to invite your friends along too for comics, cosplay and cool times at the Mohegan Sun!
Have a safe, happy and super – TERRIFIC Holiday and New Year!