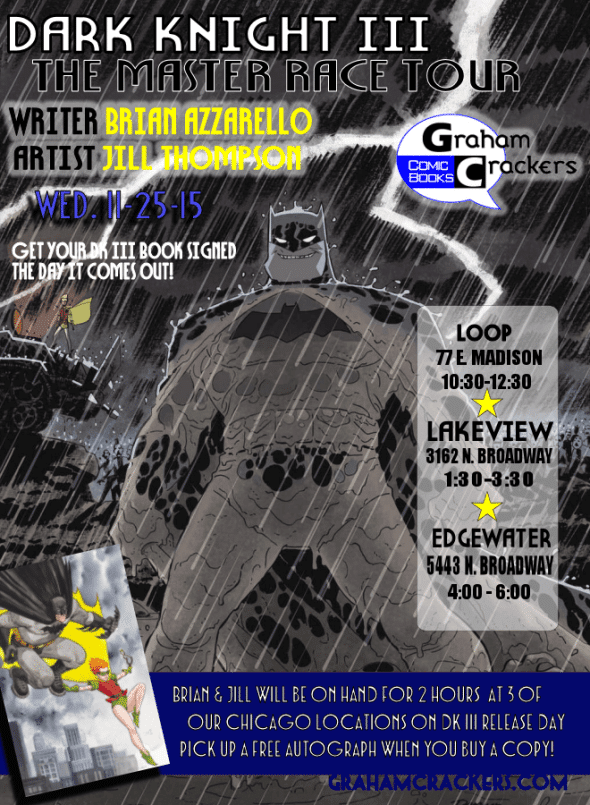 Press Release:
Writer Brian Azzarello (Wonder Woman, 100 Bullets) will be signing copies of DARK KNIGHT III: The Master Race #1 when it's released on Wednesday November 25th at a special tour of three Graham Crackers Comics Chicagoland locations! LOOP from 10:30 AM – 12:30 PM; LAKEVIEW from 1:30 – 3:30PM; and EDGEWATER from 4:00 – 6:00 PM!
Dark Knight III #1 variant cover artist Jill Thompson (Beasts of Burden, Scary Godmother) will also be on hand to sign copies of her 1 in 10 incentive copy (of which we will have copies available).
Signing begins at 10:30 am and ends at 6pm, working their way through 3 locations.  There's an open time that should fit everyone's schedule for this special occasion!
Graham Crackers Comics – CHICAGO LOOP
77 E. Madison Street, Chicago, IL 60602
312-629-1810
LAKEVIEW
5443 N Broadway Street, Chicago, IL 60640
(773) 665-2010
EDGEWATER
5443 N Broadway Street, Chicago, IL 60640
(773) 561-5010