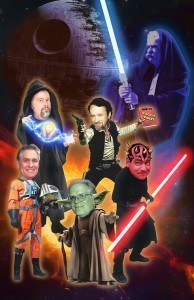 Press Release:
The Mark Twain House & Museum goes into hyper drive with MARK MY WORDS V…IN A GALAXY FAR, FAR AWAY! In anticipation of the release of STAR WARS VII: THE FORCE AWAKENS, we have assembled a lineup of authors that write in the Star Wars Expanded Universe: novels, comics, reference books, children's books, and graphic novels.
With over 100 Star Wars titles between them, JASON FRY, JOHN OSTRANDER, MICHAEL STACKPOLE, RYDER WINDHAM and TIMOTHY ZAHN have staked out the farthest reaches of the Outer Rim with adventures and characters from the films and of their own.
Join us for the MARK MY WORDS author panel at Immanuel Congregational Church at 7:00 PM or "Jabba-size" your experience with our DEATH STAR DISCO & DESSERTS AFTER-PARTY at The Mark Twain House's Webster Bank Museum Center. It's going to be more fun than an Ewok celebration!
Tickets available at the link…
Event takes place on Friday November 6, 2015 at the Immanuel Congregational Church located at 10 Woodland Street, Hartford, CT 06105.