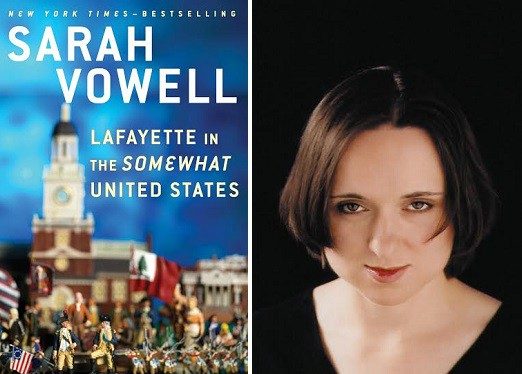 Author Sarah Vowell (also the voice of Violet Parr in The Incredibles) appears at The Neptune on Wednesday October 28, 2015 at 8:00 PM. Tickets (includes a copy of Sarah Vowell's new book, Lafayette in the Somewhat United States; redeemable at show) available at the link. General admission, seated.
Press Release:
STG Presents Sarah Vowell at the Neptune in Seattle on Wednesday, October 28, 2015. Ticket includes entry to show + book, Lafayette in the Somewhat United States (out Oct. 20, 2015).
This engagement is in partnership with Elliott Bay Book Company.
Sarah Vowell is the New York Times' bestselling author of six nonfiction books on American history and culture. By examining the connections between the American past and present, she offers personal, often humorous accounts of everything from presidents and their assassins to colonial religious fanatics, as well as thoughts on American Indians, utopian dreamers, pop music and the odd cranky cartographer. Her forthcoming book is entitled Lafayette in the Somewhat United States(Riverhead, October 2015).
Vowell's previous book, Unfamiliar Fishes (2011) is the intriguing history of our 50th state, Hawaii, annexed in 1898. Replete with a cast of beguiling and often tragic characters, including an overthrown Hawaiian queen, whalers, missionaries, sugar barons, Teddy Roosevelt and assorted con men,Unfamiliar Fishes is another history lesson in Americana as only Vowell can tell it – with brainy wit and droll humor.
The Wordy Shipmates examines the New England Puritans and their journey to and impact on America. She studies John Winthrop's 1630 sermon "A Model of Christian Charity" and the bloody story that resulted from American exceptionalism. And she also traces the relationship of Winthrop, Massachusetts' first governor, and Roger Williams, the Calvinist minister who founded Rhode Island – an unlikely friendship that was emblematic of the polar extremes of the American foundation. Throughout she reveals how American history can show up in the most unexpected places in our modern culture, often in poignant ways.
Her book Assassination Vacation (2005) is a haunting and surprisingly hilarious road trip to tourist sites devoted to the murders of presidents Lincoln, Garfield and McKinley. Vowell examines what these acts of political violence reveal about our national character and our contemporary society.
She is also the author of two essay collections, The Partly Cloudy Patriot (2002) and Take the Cannoli (2000). Her first book Radio On (1997), is her year-long diary of listening to the radio in 1995.
Vowell was a contributing editor for the public radio show This American Life from 1996-2008, where she produced numerous commentaries and documentaries and toured the country in many of the program's live shows. She was one of the original contributors to McSweeney's, also participating in many of the quarterly's readings and shows. She has been a columnist for Salon.com, Time and San Francisco Weekly and continues to write occasional essays for the opinion page of the New York Times.
Vowell has made numerous appearances on the Late Show with David Letterman, Late Night with Conan O'Brien and the Daily Show with Jon Stewart. She is the voice of teen superhero Violet Parr in Brad Bird's Academy Award-winning The Incredibles, a Pixar Animation Studios film.
Vowell is the president of the board of 826NYC, a nonprofit tutoring and writing center for students aged 6-18 in Brooklyn.
Neptune Theatre
1303 NE 45th St, Seattle, WA 98105
(206) 682-1414