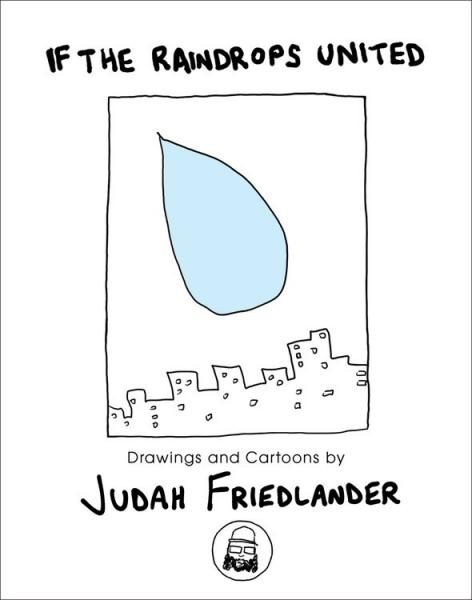 Judah Friedlander appears at the Skylight Books on Friday, November 13, 2015 at 7:30 PM to sign his new book of cartoons!
You know Judah Friedlander from his role as Frank Rossitano on 30 Rock as well as his roles in acclaimed films like Wet Hot American Summer, American Splendor, and The Wrestler. But long before he became a stand-up comic and actor, Friedlander drew stuff. If The Raindrops United is a collection of hilarious and surprisingly profound drawings and comics that shows a new side of Friedlander's "terrifically entertaining" (New York Times) comedy and marks a milestone in the career of one of America's most inventive comedians.
Hailed by Tina Fey as "one of the all-time great weirdos," Judah's drawings and cartoons push boundaries, exploring absurdities from American life and sex to history and human rights. Whether imagining George Washington in Las Vegas, plastic surgery for imperfect triangles, or the Keystone Pipeline as a sex act, Friedlander's riotous drawings in If the Raindrops United are laugh-out-loud funny, thought-provoking, and conversation-starting.
Judah Friedlander was a series regular on NBC's Emmy Award-winning hit show 30 Rock for seven seasons (SAG Award for Best Ensemble). He won international acclaim for his portrayal of Toby Radloff in the award-winning movie American Splendor. He is the author of the bestselling instructional karate book How To Beat Up Anybody, featuring his photography and artwork. Friedlander is featured in Netflix's just-released Wet Hot American Summer: First Day of Camp, and his upcoming projects include a new comedy album and a stand-up documentary concert film. He will be a series regular on FOX's 2016 primetime animated series Bordertown from executive producer Seth MacFarlane. You can follow Judah Friedlander on twitter at @JudahWorldChamp.
Skylight Books
1818 N. Vermont Ave, Los Angeles, CA 90027
323.660.1175