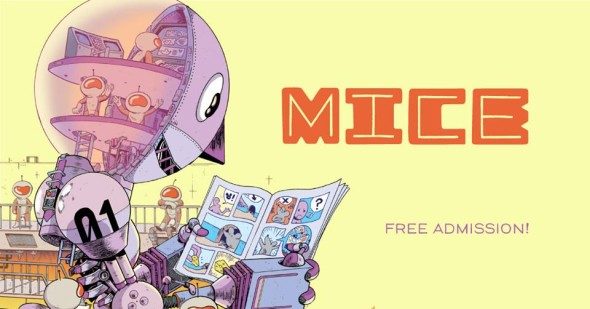 MICE will feature two full days of comics programming with workshops and demonstrations by professional artists, along with panel discussions on topics central to comics. All of our panels and workshops are appropriate for all-ages, but look for the Kid-Friendly tag for activities geared toward families and young readers. MICE Panels are located in the Lecture Hall and Workshops take place in the Lower Level of University Hall, 1815 Massachusetts Ave. Cambridge, MA
Saturday, October 17, 2015
Comics For Life! Cartooning Workshop (Kid-friendly Workshop)
11:00 AM – 12:00 PM
Get ready to draw your life in comics! MICE 2015 special guest Lucy Knisley, author of Relish: My Life In the Kitchen and many other graphic memoirs, will give you pointers on caricature, and how to illustrate your experiences and tell the story that only you can tell.
Black Independent Comics and Cartoonists Panel
11:30 AM – 12:30 PM
Five accomplished black independent cartoonists discuss their work and careers, as well as issues of racial identity in comics, and specifically in the alternative and independent comics world.
Moderator: Tony Davis Panelists: John Jennings, Micheline Hess, Ben Passmore, Whit Taylor, Joel Gill
Storyboarding Workshop (Kid-friendly Workshop)
12:30 PM – 1:30 PM
Discover where comics and animation collide: the storyboard! We'll work from existing scripts to develop your skills in sketching, pacing, and movement. Bob Flynn, art director at Fablevision Studios and storyboard artist for Spongebob Squarepants: Sponge Out of Water, will show you how easy and fun the process can be!
Instructor: Bob Flynn
Iron Cartoonist (Kid-friendly Panel)
1:00 PM – 2:00 PM
MICE pits top cartoonists against each other in a live drawing event. Utilizing themed "ingredients," three artists will compete for the title of ultimate cartoonist and earn prizes for the audience.
Host: Zack Giallongo Contestants: Mike Holmes, Cara Bean, Dan Moynihan Judges: Carey Pietsch, John Green, Braden Lamb
Comics Lettering and Layout Workshop
2:00 – 3:00 PM
Join cartoonist (Diary Comics, Behold! The Dinosaurs!) and occasional letterer (Casanova, Seconds) Dustin Harbin for a hands-on workshop exploring the role of lettering in comics page layout. Lettering is a lot more than just legible handwriting: it's often the clearest sign to a reader of what's happening on a page, who's speaking and when, and in what order everything should be read. Participants will work through laying out lettering for a page of comics from start to finish, with plenty of room for Q's and A's along the way.
Writing About Comics 
2:30 PM – 3:30 PM
In the midst of our review culture, how is comics criticism evolving alongside this exciting, growing art form? A panel of comics journalists, educators, and scholars examine how to write about a medium that includes both visual and literary storytelling. Moderator Brigid Alverson writes about comics at Robot 6 and School Library Journal. Our panelists write for a variety of online comics blogs including: Janelle Asselin (Comics Alliance), James Kaplan (Panel Patter), Zach Clemente (The Comics Beat), and Juliet Kahn (Comics Alliance).
First Aid for Drawing Injuries Workshop
3:30 PM – 4:30 PM
Drawing can be fun, but it can also be a pain! Explore safe and effective techniques for caring for minor musculoskeletal injuries that can occur while drawing. Kriota Willberg, creator of the minicomic First Aid for Drawing Injuries (Or, Pain is Your Frenemy!) helps you to discover strategies for reducing pain while you draw and the differences between treating pain and treating injuries.
Kriota Willberg makes comics and art about body-oriented sciences. As a cartoonist she is best known for (NO) PAIN! A Guide to Injury Prevention for Cartoonists. An educator and massage therapist specializing in the treatment of orthopedic injury, she has also studied fitness and exercise. Kriota has taught injury prevention and anatomy for drawers at the Center for Cartoon Studies, the Society of Illustrators, and MoCCA.
What's My Style? Panel
4:00 PM – 5:00 PM
Stylistic chameleon Robert Sikoryak sits down with four outstanding independent comics creators to explore the development of personal style. How has experimentation with graphic and storytelling techniques, media, format or other aspects of drawing comics challenged and shaped their visual styles? What breakthroughs, revelations, influences or inspirations have led to artistic growth? Moderator: R. Sikoryak Panelists: Luke Howard, Sophie Goldstein, Sophie Yanow, Jason Little
Comic Life Drawing (Kid-friendly Workshop)
4:30 PM – 5:30 PM
This introduction to figure drawing gives cartoonists of all skill levels an opportunity to draw from a live model! Explore the basics of dynamic movement, weight, and human anatomy. Easels, paper, and charcoal will be supplied. Zack Giallongo is the illustrator of Broxo, Ewoks: Shadows of Endor, and The Stratford Zoo Midnight Revue Presents series.
Sunday, October 18, 2015
Fable Comics Workshop (Kid-friendly Workshop)
11:30AM – 12:30 PM
Presented by The Eliot School
Looking for your next great comic idea? You can start with one of the oldest stories you know – fables! Chris Duffy, editor of the Fable Comics Anthology, along with artists George O'Connor (The Olympians) and Shelli Paroline (Adventure Time) will give you some pointers in drawing your own comic from well-known fables.
Art of the Mini-Comic (Kid-friendly Panel)
12:00 PM – 1:00 PM
The humble mini-comic is one of the basic forms of expression for independent cartoonists, and it ranges from simple fold and staple photocopies, to exquisite handmade artists' books. Jon Chad (Leo Geo, Bikeman) explores the form, and talks to some of the most creative mini-comic makers at MICE.
Jon Chad has been producing handmade mini-comics and zines since 2006. Jon has illustrated books for clients including the Atlanta Braves, the FBI, and has been commissioned to make minicomics for Cartoon Network's Regular Show and Adventure Time. Jon Chad's books Leo Geo and his Miraculous Journey through the Center of the Earth and the sequel, Leo Geo and the Cosmic Crisis are published by Roaring Brook Press. Jon lives in Northampton, MA and teaches book-making and screen-printing at the Center for Cartoon Studies.
Unexpected Cartoons (Kid-friendly Workshop)
1:00 PM – 2:00 PM
Presented by The Eliot School
A playful workshop for kids and all ages. Participants are led into various drawing exercises that would encourage improvisation and strengthen creative ability. We will approach drawing from new angles and discover unexpected results. All you need is a sheet of paper, pencil, eraser, and an open mind.
Cara Bean is an artist and Educator in Lexington, MA. Cara excels in both poetic self introspection, and silly storytelling. Her Gorilla Year series has received critical praise for tackling autobiographical issues in an innovative form.
Comic Life Drawing (Kid-friendly Workshop)
1:00 PM – 2:00 PM
This introduction to figure drawing gives cartoonists of all skill levels an opportunity to draw from a live model! Explore the basics of dynamic movement, weight, and human anatomy. Easels, paper, and charcoal will be supplied. Instructor: Zack Giallongo
Spotlight on Ryan North and Gene Luen Yang Panel
1:30 PM – 2:30 PM
Gene Luen Yang (American Born Chinese, Boxers and Saints) and Ryan North (Dinosaur Comics, Adventure Time) have each made major contributions to defining contemporary forms like webcomics and young adult graphic novels, as well as crossing over into the "mainstream" world: North has brought his absurdist wit to Marvel's Squirrel Girl, while Yang is currently writing Superman for DC. MICE is proud to present these two original, category-defying creators in conversation with writer and educator Alexander Danner.
Mini-Comic Workshop (Kid-friendly Workshop)
2:30 PM – 3:30 PM
Sometimes the best ideas come out of play, improvisation, and collaboration. In this workshop, you'll participate in a few fun, collaborative, drawing games and create some wildly unexpected characters and stories with your fellow attendees.
Dan Moynihan lives in Brookline, Massachusetts where he draws and writes comics. His work has appeared in Nickelodeon Magazine and various anthologies. His first picture book, Hiding Dinosaurs, is out this year.
Parenthood and Comics Panel
3:00 PM – 4:00 PM
Cartoonists who have taken the daring leap into parenthood — or parents who have taken the daring leap into cartooning — discuss how having children affects their work. How have they dealt with the challenges of maintaining a creative work schedule with the demands of parenthood? How has being a parent influenced the content of their work?
Moderator: Dan Mazur Panelists: Jennifer Hayden, Jason Little, Glynnis Fawkes, Charles Snow, Sage Stossel
MICE will be held at Lesley University's University Hall at 1815 Massachusetts Avenue in Porter Square. The hours of the show are Saturday, October 17th, 10:00 am – 6:00 pm, and Sunday, October 18th, 11:00 am – 5:00 pm. Admission is FREE. Special Guests include: Gene Luen Yang, Lucy Knisley, Dustin Harbin, Ryan North, and Jennifer Hayden! Click their website for more information: www.micexpo.org