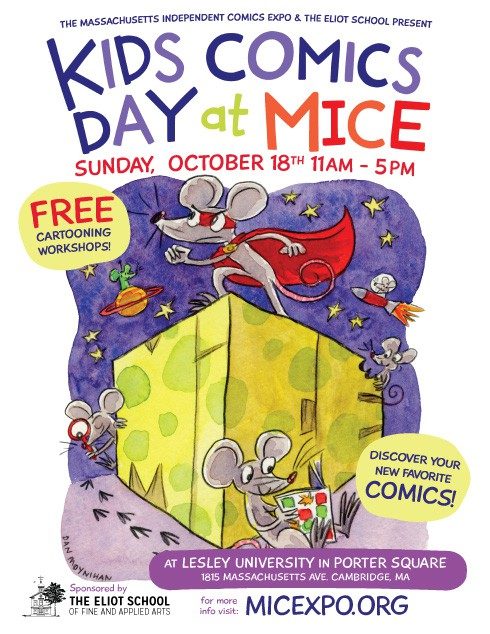 Press Release:
The Massachusetts Independent Comics Expo (MICE) is a whole weekend of books, fun, and events for every age, with free admission to all, located at University Hall in Porter Square. Sunday, October 18th is Kids Comics Day, featuring our best kid-oriented activities and comics! Meet the authors of some of the best kids comic books, including Ryan North (Adventure Time), Gene Luen Yang (Avatar: The Last Airbender, American Born Chinese), George O'Connor (The Olympians) and Bob Flynn (Spongebob Comics). Discover your new favorite comics and cartoonists in our exhibit hall. Just keep an eye out for balloons attached to tables: that's how find kid-friendly comics!
Kids can learn how to make their own cartoons and comics in three workshops and activity sessions…
Fable Comics Workshop
Oct 18th, 11:30 AM – 12:30PM
Looking for your next great comic idea? You can start with one of the oldest stories you know – fables! Chris Duffy, editor of Fable Comics Anthology, and artists George O'Connor (The Olympians) and Shelli Paroline (Adventure Time) will give you some pointers in drawing your own comic from well-known fables.
Unexpected Cartoons
Oct 18th, 1:00 PM – 2:00PM
Cartoonist Cara Bean leads a playful workshop for kids and all ages. Participants are led into various drawing exercises that would encourage improvisation and strengthen creative ability. We will approach drawing from new angles and discover unexpected results. All you need is a sheet of paper, pencil, eraser, and an open mind.
Mini-Comic Workshop
Oct 18th, 2:30 PM – 3:30PM
Sometimes the best ideas come out of play, improvisation, and collaboration. In this workshop, you'll participate in a few fun, collaborative, drawing games and create some wildly unexpected characters and stories with your fellow attendees.
Join us at MICE on Sunday, October 18th to explore the best in kids comics, and check out our full schedule for even more events offered all weekend.
Kids Comics Day at MICE is sponsored by The Eliot School in Jamaica Plain, MA which offers comics classes year-round to all ages. Sign up for the Fall session today at www.eliotschool.org
MICE will be held at Lesley University's University Hall at 1815 Massachusetts Avenue in Porter Square. The hours of the show are Saturday, October 17th, 10:00 am – 6:00 pm, and Sunday, October 18th, 11:00 am – 5:00 pm. Admission is FREE. Special Guests include: Gene Luen Yang, Lucy Knisley, Dustin Harbin, Ryan North, and Jennifer Hayden! Click their website for more information: www.micexpo.org