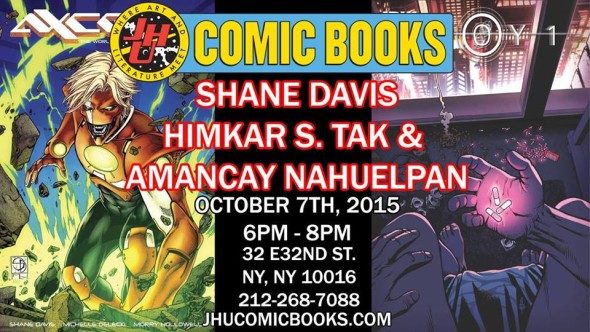 Shane Davis, H.S. Tak, and Amancay Nahuelpan sign at JHU Comic Books on Wednesday, October 7, 2015 at 6:00pm!
Press Release:
JHU Comic Books is proud to present a signing of EPIC proportions!
On the eve of NYCC 2015 comes a fantastic showing of pure comic book talent, featuring fan-favorite veterans and bright, young new stars, alike!
Superstar Writer/Artist, Shane Davis (Superman: Earth One, Superman/Batman) debuts his creator owned Image Comics series with Axcend #1! A sci-fi/thriller, with no filler, this first issue will be packed to the gills with content and NO ads! Video games come to life and you get to witness it unfold!
Joining Shane will be the writer and artist of IDW's BOY-1! Talented newcomer, H.S. Tak gets his comic book debut rolling, with art duties by Amancay Nahuelpan (Young Terrorists), coming in all the way from Chile! This trippy tale of sci-fi espionage is off to a great start and the first 2 issues will be available at the signing!
You don't want to miss these three fantastic creators as we celebrate the launch of these two beautiful new titles!
*Purchase of Axcend #1 or BOY-1 #1 or #2 required to participate in signing event.
RSVP on Facebook!
JHU Comic Books MANHATTAN
32 East 32nd Street, New York, NY 10016
(212) 268-7088