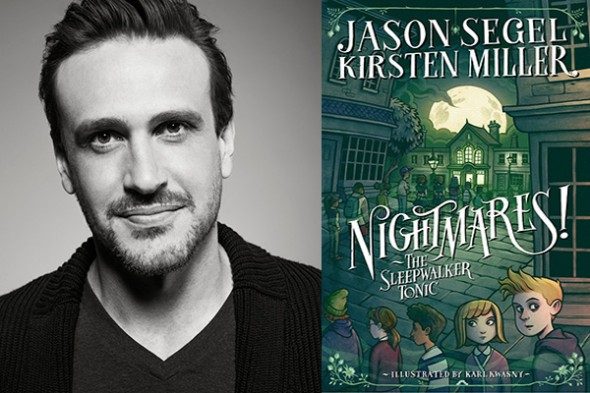 Press Release:
Harvard Book Store and 826 Boston are thrilled to welcome back multitalented actor, writer, and children's book author JASON SEGEL (How I Met Your Mother, The Muppets, The End of the Tour) on Wednesday October 7, 2015 at 7:00 PM for a presentation of his book Nightmares! The Sleepwalker Tonic, the sequel to his and Kirsten Miller's middle grade book Nightmares! Jason will be joined in conversation by 826 Boston program coordinator KAREN SAMA.
Tickets go on sale online only at segelnightmares.eventbrite.com on September 10 at 9am. A general admission ticket is $20 and includes a copy of the new book Nightmares! The Sleepwalker Tonic. A $5 kids ticket is also available for ages 12 and under and does not include a book.
Signing Guidelines / Books for Sale
-Jason will personalize one (1) book and will sign a total of three (3) books per person. This includes both Nightmares! The Sleepwalker Tonic and Nightmares!
-Jason will not sign memorabilia. This is a book signing only.
-No flash photography; no posed photographs.
-The featured event book for the evening is Nightmares! The Sleepwalker Tonic, which will be available for sale at the event. The original Nightmares! (in paperback) will also be available.
Nightmares! The Sleepwalker Tonic
You thought the nightmares were over? You better keep the lights on!
Charlie Laird has a dream life.
1) He has a weirdo stepmom who runs an herbarium.
2) He lives in a purple mansion with a portal to the Netherworld.
3) Since they escaped from the Netherworld, he and his best friends have been sleeping like babies.
But Charlie can't shake the feeling that something strange is afoot. Charlotte's herbarium used to be one of the busiest stores in Cypress Creek. Now her loyal following is heading to Orville Falls for their herbal potions.
Weirder, though, Orville Falls is suddenly filled with . . . zombies? At least, they sure look like the walking dead. Rumor has it that no one's sleeping in Orville Falls. And Charlie knows what that means.
Things are getting freaky again.
Nightmares!
Sleeping has never been so scary. And now waking up is even worse!
Charlie Laird has several problems.
1. His dad married a woman he is sure moonlights as a witch.
2. He had to move into her purple mansion, which is NOT a place you want to find yourself after dark.
3. He can't remember the last time sleeping wasn't a nightmarish prospect. Like even a nap.
What Charlie doesn't know is that his problems are about to get a whole lot more real. Nightmares can ruin a good night's sleep, but when they start slipping out of your dreams and into the waking world—that's a line that should never be crossed.
And when your worst nightmares start to come true . . . well, that's something only Charlie can face. And he's going to need all the help he can get, or it might just be lights-out for Charlie Laird. For good.
Old South Church
645 Boylston St, Boston, MA 02116