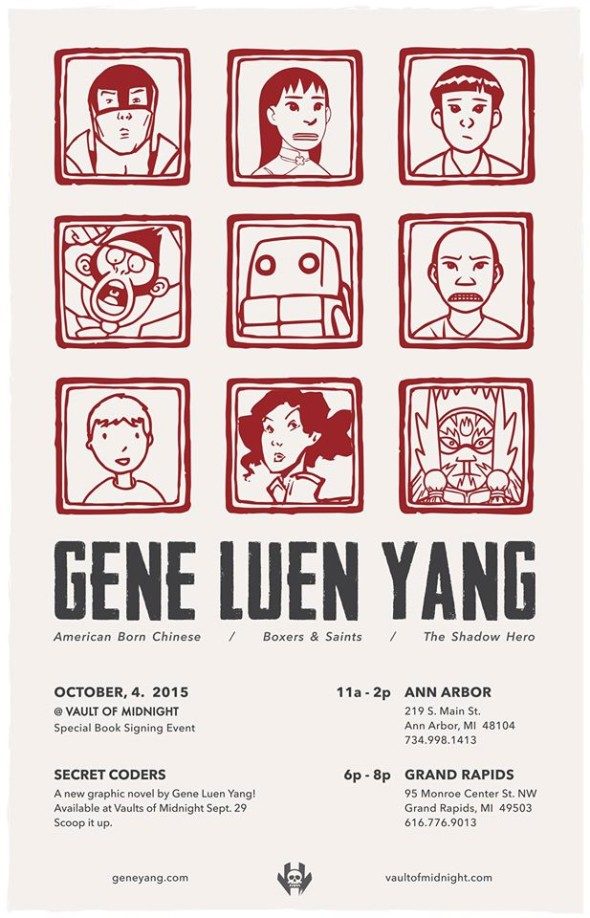 Cartoonist Gene Luen Yang will visit both Vault of Midnight locations for signings and to promote his new book Secret Coders on Sunday, October 4, 2015!
Yang is one of the most celebrated comic book creators of his generation, and was the first graphic novelist to be nominated for the National Book Award for his 2006 book American Born Chinese. That work would go on to win the American Library Association's Printz Award (the first graphic novel to receive that honor) as well as an Eisner Award (the comic industry's most prestigious commendation).
In addition to a slew of other original graphic novels including Boxers and Saints, Level Up, and The Shadow Hero, Yang is additionally and currently the writer for DC Comics' Superman as well as the Dark Horse Comics' Avatar: The Last Airbender, which sequels the television show.
Gene will be signing in the Ann Arbor Location on October 4th from 11:00 am – 2:00 pm, and in the Grand Rapids location from 6:00 pm – 8:00 pm.
Vault of Midnight has worked hard to make sure that Yang's collected works will be available building up to and during his appearances.
This is sure to be an amazing opportunity to meet one of the world's most renowned comic creators!
Vault of Midnight
219 S. Main Street, Ann Arbor, MI 48104
734-998-1413
95 Monroe Center Street NW, Grand Rapids, MI 49503
616-776-9013