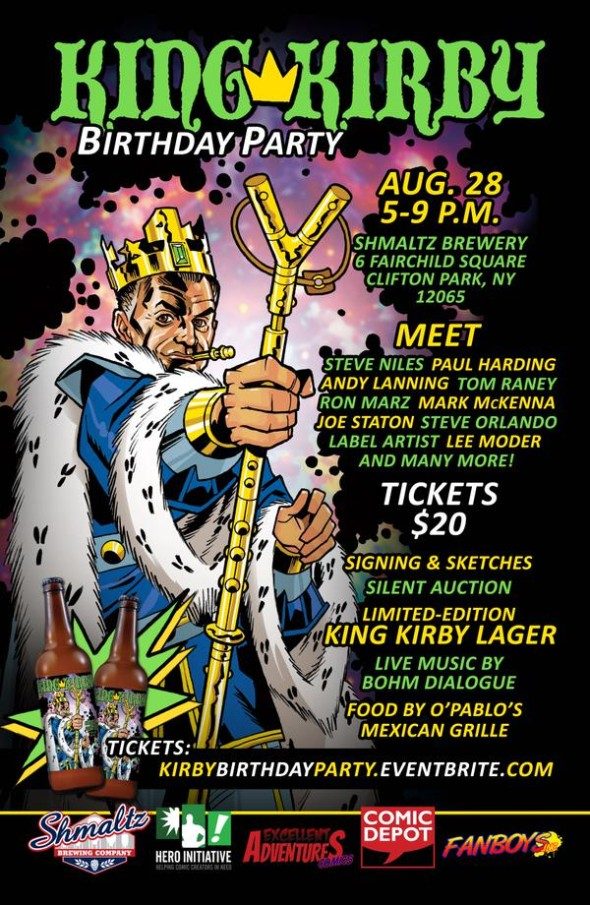 Press Release:
A Birthday Party for the King of Comics, Jack Kirby, will be held at Shmaltz Brewery on Friday, August 28th from 5:00 PM to 9:00 PM! Sponsored by Shmaltz Brewery, Excellent Adventures Comics, and Comic Depot, the event will feature Shmaltz's "King Kirby Ale," honoring Jack Kirby's vast legacy in comics.
"King Kirby Ale" is a special bottling of Shmaltz's Slingshot Lager, featuring Jack Kirby himself on the label in art by comics stalwarts Lee Moder and Paul Harding. Limited Edition cases will be on sale at Shmaltz the night of the event, with a percentage of proceeds going to the comic-oriented charity Hero Initiative.
The Kirby Birthday Party features an impressive list of comic creators, who will be on hand to sign and sketch. Guests include Steve Niles, Andy Lanning, Ron Marz, Lee Moder, Paul Harding, Tom Raney, Joe Staton, Mark McKenna, Steve Orlando, and many more.
The ticket cost of $20 include five samples of Shmaltz beers, a complimentary glass, a piece of Kirby birthday cake, and a chance at door prizes. There will also be a silent auction of special comic items donated by creators. Ticket and auction proceeds benefit comic charities Hero Initiative and Kirby4Heroes. Tickets are available for sale online now…
Tickets will also be available at the door, the night of the event.
Shmaltz Brewery
6 Fairchild Square Clifton Park, NY 12065