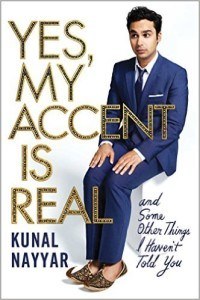 Kunal Nayyar signs at Book Revue on Friday, September 18th, 2015 at 7:00 pm!
Star of the #1 hit comedy The Big Bang Theory and author Kunal Nayyar will speak about and sign his new memoir, Yes, My Accent Is Real: And Some Other Things I Haven't Told You.
In the spirit of Mindy Kaling's bestseller Is Everyone Hanging Out Without Me?, a collection of humorous, autobiographical essays from Kunal Nayyar, best known as Raj on CBS's #1 hit comedy The Big Bang Theory.
Of all the charming misfits on television, there's no doubt Raj from The Big Bang Theory—the sincere yet incurably geeky Indian-American astrophysicist—ranks among the misfittingest. Now, we meet the actor who is every bit as loveable as the character he plays on TV. In this revealing collection of essays written in his irreverent, hilarious, and self-deprecating voice, Kunal Nayyar traces his journey from a little boy in New Delhi who mistakes an awkward first kiss for a sacred commitment, gets nosebleeds chugging Coca-Cola to impress other students, and excels in the sport of badminton, to the confident, successful actor on the set of TV's most-watched sitcom since Friends.
Going behind the scenes of The Big Bang Theory and into his personal experiences, Kunal introduces readers to the people who helped him grow, such as his James Bond-loving, mustachioed father who taught him the most important lessons in life: Treat a beggar as you would a king. There are two sides to every story. A smile goes a long way. And, when in doubt, use a spreadsheet. Kunal also walks us through his college years in Portland, where he takes his first sips of alcohol and learns to let loose with his French, 6'8" gentle-giant roommate, works his first-ever job for the university's housekeeping department cleaning toilets for minimum wage, and begins a series of romantic exploits that go just about as well as they would for Raj. (That is, until he meets and marries a former Miss India in an elaborate seven-day event that we get to experience in a chapter titled "My Big Fat Indian Wedding.")
Full of heart, but never taking itself too seriously, this witty and often inspiring collection of underdog tales follows a young man as he traverses two continents in search of a dream, along the way transcending culture and language (and many, many embarrassing incidents) to somehow miraculously land the role of a lifetime.
IMPORTANT!
All books signed at Book Revue events must be purchased at Book Revue. If you purchase the book prior to the event please save your receipt. If you have purchased the book from somewhere else you can still get your book signed, we just ask that you make a purchase in our store of equal or greater value to that of the book.
Book Revue
313 New York Avenue, Huntington, NY 11743
631-271-1442