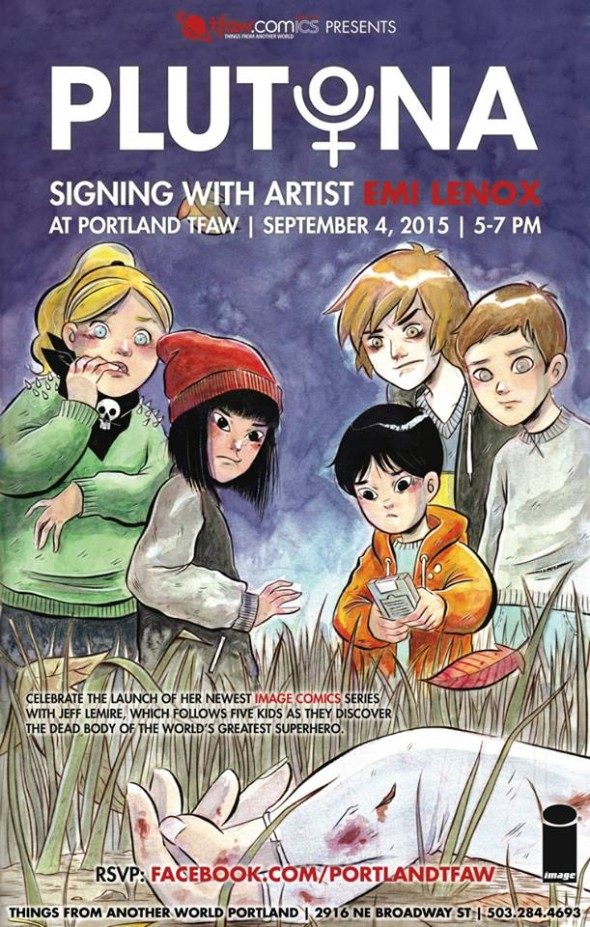 Press Release:
Things From Another World is excited to host Emi Lenox at our Portland store for a Plutona signing on September 4th from 5:00 p.m. to 7:00 p.m., and we hope you'll join us to celebrate the release of Plutona #1 from Image Comics.
Emi Lenox is best known for her work on EmiTown, and has also worked on Madman, Sweet Tooth, Glory, and more. She's reuniting with award-winning writer Jeff Lemire to launch the new five-issue Plutona miniseries.
Plutona follows the story of five suburban kids who stumble upon the dead body of a superhero in the woods. It is a character-driven story that touches on themes of innocence, science fiction, superheroes, and mortality.
Copies of Plutona #1 will be available for purchase at the event. Don't miss this opportunity to meet the up-and-coming star Emi Lenox and get the first issue of Plutona signed on September 4th at the Portland TFAW!
Things From Another World
2916 NE Broadway, Portland, OR 97232
(503) 284-4693